As North Carolina braces for Irene's impact tomorrow, the the latest forecast has Irene beginning to hit New York early Sunday, and making landfall around eastern Queens as a Category 1 hurricane. Already, the city is putting its emergency plan into effect. Nursing homes and hospitals in Zone A, the areas of the city most vulnerable to flooding, such as Coney Island, have been ordered to evacuate by 8 p.m. tonight. As for whether everyone else in Zone A would face mandatory evacuations, well, it's probably going to happen, but Mayor Bloomberg said at a press conference last night that he would make the final decision "by 8:00 a.m. Saturday, the day after tomorrow." (Probably best to not allude to this in your pre-flood pep talk.)
Early Saturday may also be the last time you can use the subway for a while. As The Wall Street Journal reports:
New York City's mass-transit system could shut down for much of the weekend if Hurricane Irene arrives as is currently predicted, Metropolitan Transportation Authority chairman Jay Walder said Thursday evening.
The transit agency, which runs the city's subways, buses and several commuter trains, can't guarantee the safety of riders and employees if sustained winds reach above 39 miles per hour, Walder said. Even a weakened Irene would bring winds in excess of that speed, making it likely that the MTA will start shutting down service Saturday morning. There could be lingering delays and service outages into Monday's morning rush hour.
A preemptive, system-wide shutdown, by the way, would be unprecedented in the history of the MTA, Walder said.
Stay tuned for constant updates throughout the day. (Here's yesterday's constantly updated hurricane post.)
New York Transit System Prepares for Full Shutdown [Metropolis/WSJ]
MAYOR BLOOMBERG UPDATES NEW YORKERS ON CITY PREPARATIONS FOR HURRICANE IRENE AND STEPS NEW YORKERS SHOULD TAKE TO PREPARE [NYC.gov]
Update: Numbers wizard Nate Silver, through calculations we don't entirely understand, says that a weak Category 2 hurricane passing directly over Manhattan (a worst-case scenario) could cause $35 billion in damages. In a more likely scenario, "a hurricane-strength storm would come ashore on central Long Island. That would still be extremely bad: a weak Category 2 storm with an eye that passed about 50 miles from Manhattan would result in about $10 billion in damage, according to the model."
Update II: Irene is ruining what was supposed to be a very fun and social weekend in the Hamptons. Unless, of course, you live in a castle, like Sir Ivan Wilzig. He says his bash, "welcoming India's Crown Prince Manvendra Singh Gohil to Long Island," is still a go.
Update III: CNET reports that cell phone service may be disrupted during the hurricane due to network congestion, a.k.a., too many people calling each other.
Update IV: Bloomberg revoked permits for 300 outdoor events that were set to take place on Sunday. Events on Saturday have to shut down by 2 p.m.
Update V: Get all your subway and bus riding in while you can. Governor Cuomo has announced that the MTA's system-wide shutdown will begin "when trains and buses begin their final runs starting at approximately noon on Saturday." Major bridges, and possibly highways, will be closed if winds surpass 60 m.p.h.
Update VI: This weekend is a bad weekend to have a wedding. In fact, many couples are canceling theirs.
Update VII: President Obama is coming back to the White House today, a day earlier than planned, because of the hurricane.
Update VIII: The Daily News says the city's website, nyc.gov, crashed this morning due to a surge in interest in the city's website for the first time ever. But it's working at the moment.
Update IX: Maybe if we're all rude enough, Irene will feel unwelcome and slink off into the ocean.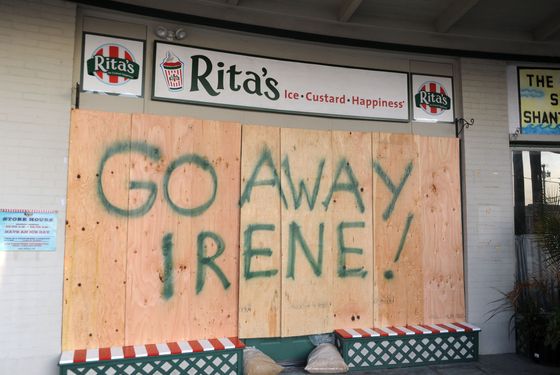 Hey Irene, nice eye wall … not!
Update X: Have you found yourself a hurricane boyfriend yet? Go!
Update XI: Not a surprise, but Mayor Bloomberg has now ordered the mandatory evacuation of city residents who live in Zone A. If you live in Zone A, you have to get out by 5 p.m. on Saturday. Please refer to the map (PDF).
Update XII: Well, here's some good news: Alternate-side parking has been suspended. While we're on the subject, try not to park your car under or near a tree.
Update XIII: By the way, if you're wondering what's going to happen if you don't submit to the mandatory evacuation orders, Mayor Bloomberg just acknowledged, "nobody's going to get fined, nobody's going to go to jail." It's just not smart.
Update XIV: Courtesy of NASA, here's a look at Irene as it approaches the Eastern coast. Like watching a slow moving train wreck:
Update XV: According to Twitter, the freak-out at city grocery stores has begun.
Update XVI: Irene has weakened slightly! The taunting is working!
Update XVII: Over 1,000 flights have been canceled.
Update XVIII: Hurricane-taunting fail: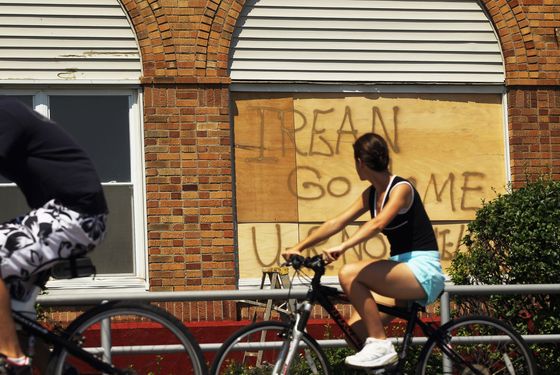 Update XIX: Here's a cool map from Google integrating evacuation information and the latest hurricane forecasts from the NOAA.
Update XX: Irene has already caused $1.1 billion in damages in the Caribbean.
Update XXI: As New Yorkers desperately hunt for flashlights, the bonds of society are showing some strain:
Susan Lee had already tried Home Depot, and was striking out at Duane Reade when someone shouted out, "They have shipments of flashlights at the hardware store next door!" she recalled. Lee was part of a flood of customers mobbing the cramped and dimly lit store on Sixth Avenue.
Update XXII: In addition to, you know, everything, Irene is endangering three fund-raisers for GOP presidential candidates.
Update XXIII: President Obama has already declared a federal emergency in New York.
Update XXIV: This is probably the first time we've ever used the Roman numeral for 24.
Update XXV: Take a look at the line for Trader Joe's in Chelsea, courtesy of @DaniellaAlony: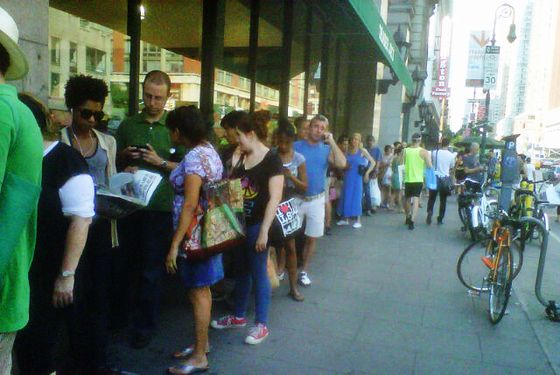 Apparently, nobody in New York has a two-day supply of food in their apartments.
Update XXVI: Chris Christie is angry at his people. "Get the Hell off the beach in Asbury Park and get out. It's 4:30," he said today. "You've maximized your tan."
Update XXVII: So, not to ruin the fun, but the NOAA's latest forecast predicts that there's only a 25 percent chance that Irene will be a hurricane by 2 a.m. on Sunday. There's a 59 percent chance it will have weakened to a tropical storm, which can pack winds of anywhere from 39 m.p.h to 73 m.p.h. Still a lot of wind, if you ask us.
Update XXVIII: Here's some footage of a 1938 hurricane ravaging Long Island!