After dropping up to sixteen inches of rain along the mid-Atlantic and knocking out power to 2.7 million 4 million homes, Hurricane Irene finally made a second landfall near Little Egg Inlet, New Jersey, around 5:35 a.m. The eye of the storm, much dispersed though still powerful, is headed toward New York City, and a four-to-eight-foot storm surge is expected to hit around 10 a.m., according to the latest National Weather Service warning.
Irene now has maximum speeds of 65 mph, and the National Weather Service has downgraded her to a tropical storm, which covers winds from 39 to 73 miles per hour. But there's still a high risk of flooding. "The time for evacuation is over. Everyone should now go inside and stay inside," Mayor Bloomberg said last night and, thankfully, looks like most New Yorkers heeded his calls, apart from the few intrepid (read: totally batshit crazy) drivers still out on the city's streets.
CNN is reporting that the East and Hudson rivers have begun to overflow in parts of Lower Manhattan. The overall potential for flooding has been downgraded from "extreme" to "high" — but high is still high!
John F. Kennedy International Airport has already been experiencing near-hurricane force winds and several feet of surge waves. In Brooklyn and Queens, tornado warnings were issued in the early hours of the morning, with the city's Office of Emergency Management tweetings for people to "immediately go indoors to the lowest possible floor for shelter. Stay away from windows."
This isn't a drill any more, folks, this is really happening, so batten down those hatches and let's ride her out. And be sure to check back regularly for rolling updates on power outages, local conditions, and early storm damage reports.
Slower but still powerful, Irene hits land in NJ [AP]
Update I: Early reports of flooding are already coming in from Manhattan and Brooklyn, with several major roadways already shut down, including one tube of the Holland Tunnel, FDR Drive between Houston and Grand Street, as well as the Henry Hudson Parkway uptown.
Update II: Check out some raw AP video footage of flooding in downtown Manhattan.
Update III: Looks like we're either in the eye of the "hurricane" or it really has weakened considerably, at least going by some of the messages collected on New York's Twitter page (@NYMag) that say it's "sunny" on the Upper East Side and that people are already walking their dogs on the Coney Island boardwalk. A quick peak out the window (around 10 a.m.) shows the weather over northern Brooklyn eerily calm.
Update IV: It's probably a good thing we're dealing with a much weaker, tired-out version of Irene since it turns out that only a very, very small portion of the 370,000-or-so people ordered to evacuate actually did. The AP reported late yesterday that the city had opened 90 evacuation centers able to hold some 70,000 people but that only 5,500 had checked in.
Update V: Just another piece of news that Hurripocalypse may have been averted, New Jersey's State Police Superintendent says there's been less damage to the state than expected, according to the Times' Jennifer Preston. That just a short while after Governor Chris Christie went on NBC News to say there were billions "if not tens of billions" of dollars in Irene damage to contend with.
Update VI: Looks like the storm has indeed passed, at least for now, according to the Weather Channel's radar map. Around noon, the heart of the storm looks to be passing through upstate New York, Vermont, and New Hampshire; because of how the system has been rotating the city is now in the clear while parts of central Pennsylvania are getting heavy Irene rains.
Update VII: Washington D.C.'s airports have now been reopened with minimal delays, though all airports in the New York area remain closed for the time being, the AP is reporting. (More than 6,000 flights have been cancelled nationwide today.) While federal aviation officials say they have no idea when JFK, LaGuardia and Newark airports might start handling flights again, with the skies clearing up there might be a decision on that in the coming hours.
Update VIII: Seems this Long Beach guardhouse was no match for Irene's diminished fury.
Update IX: Let the post-Irene taunting begin!
Update X: The New York Times's City Room liveblog is reporting that the MTA does not think it will have the the city's subway and public transportation will be fully up and running by tomorrow's morning commute.
Update XI: User-submitted photo of DUMBO the morning after.
Updated XII: Seems at least shopowners took the storm seriously with many taping up their windows, some veering away from the traditional X — find a whole series of related images at Eric's Posterous blog.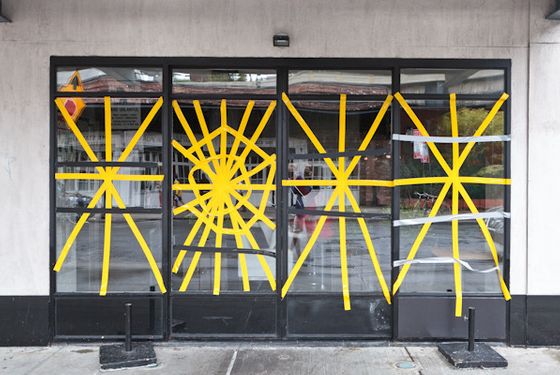 Update XIII: About 12,000 Brooklyn residents are without power, according to Con Ed officials. Visit here for the utility's real-time map of New York outages.
Update XIV: The FDNY has been cruising the city's coastline in boats and has so far rescued 61 adults and three babies from about 20 flooded homes, some with more than five feet of water.
Update XV: The city's bruncheries are starting to open, a sign that the end times have surely passed… or just that New Yorkers will let nothing get in the way of their customary Sunday morning mimosa and lox scrambled eggs. Check out @NYMag for a sample of where you might get a table.
Update XVI: A little bit of whimsy in the post-Irene flooding.
Update XVII: MTA transit service is not expected to be back online until late tomorrow afternoon at the earliest, with aviation traffic starting back up most likely Tuesday, it was announced in a press conference held by the mayor a little after one in the afternoon. So far, no deaths or serious injuries have been confirmed, Mayor Bloomberg reported, adding that over 60,000 households are currently without power and that some 650 trees were uprooted throughout the five boroughs; beaches in Staten Island and the Rockaways also suffered serious erosion. "The worst is over," said Mayor Bloomberg, who proudly announced that there were only 44 arrests across the city last night, as compared to 345 on an average August Saturday. The city will officially lift the evacuation order at three this afternoon and has set up an online tool so residents can report property damage.
Update XVIII: Here are more details on the city's plans to bring back transportation services. The MTA's biggest fear, that the subway tunnels under the East River would flood, did not materialize. Subway and bus services will be up and running as soon as test runs of the tracks are completed and streets are deemed clear. On the LIRR, there were several fallen trees, with the 295 pass-through gates remaining locked until wind gusts die down. The Staten Island Ferry is set to restart service around three this afternoon, and all the tunnels and bridges in and out of the city are open. Metro-North may have sustained the worst damage from Irene, with serious flooding on all three lines.
Update XIX: In economic news, early damage estimates from Kinetic Analysis Corp. topped out at $7 billion, which wouldn't even break the top five most expensive hurricanes to hit New York, per Nate Silver's calculations. As for the markets, both the NYSE and NASDAQ are ready for trading Monday, though the SEC may still decide to keep them closed.
Update XX: Trees are down all over New York, according to Mayor Bloomberg, including a controversial elm in Brooklyn Heights as well as the following giant in McCarren Park.
Update XXI: Reuters is now reporting that the MTA will have limited bus service running as soon as 4:30 p.m. today and that NJ Transit will restart a "modified" schedule starting tomorrow.
Update XXII: President Obama, speaking from the Rose Garden this afternoon, announced that localized flooding may worsen in the coming days but that federal aid would be available to hard-hit states — through FEMA — as they begin picking through the debris left behind by Hurricane Irene. But with House Majority Leader Eric Cantor now saying that any earthquake and hurricane aid will have to result in spending cuts elsewhere, this may mean another budgetary showdown between President Obama and congressional Republicans on the near horizon.