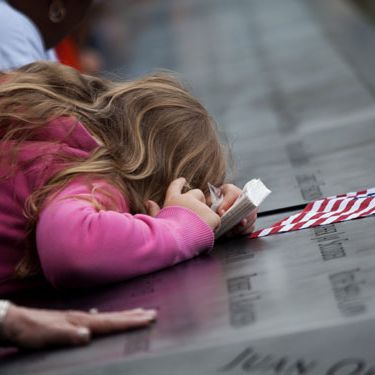 Photo: Pool/2011 Getty Images
This morning ten years ago, four commercial flights took off from airports in Boston, Washington, D.C., and Newark, headed to Los Angeles and San Francisco, but never reached their destinations. As the nation marks the tenth anniversary of the worst terrorism attack in U.S. history, a series of ceremonies are being held at ground zero in New York, as well as the Pentagon in Washington, D.C., and the field in Shanksville, Pennsylvania, where United Airlines Flight 93 crashed.
A little after 8 a.m., President Barack Obama, hand in hand with First Lady Michelle Obama, walked with former President George W. Bush and his wife Laura to the North Memorial Poll at ground zero. The pool is one of two waterfall-bordered chasms outlining the footprints of the World Trade Center towers. (It is the first time that President Obama and President Bush have appeared together.) Both men ran their hands over the bronze plaques engraved with the names of those lost before meeting with victims' families.
The anniversary commemoration began soon after, as the tattered remains of an American flag recovered from ground zero were unfurled, to the sounds of a choir singing the national anthem. Soon after, at 8:46 a.m., the very moment that American Airlines Flight 11 struck the North Tower, the first of six moments of silence was observed. As AP White House correspondent Ben Feller write, "this was not a day about presidential speechmaking: Rather Obama's role was simply to be there — in New York, then Pennsylvania, then at the Pentagon." The only remarks that President Obama made came from Psalm 46:
Around 8:54 a.m., the name-reading ceremony began — all 2,983 victims' names are spoken by a group of relatives. The first name is of Gordon "Gordy" M. Aamoth, Jr., an investment banker and onetime high school football captain at the Blake School.
At 9:03 a.m., a bell tolled for the second moment of silence to mark when United Airlines Flight 175 struck the South Tower. President George W. Bush read from a letter written by President Abraham Lincoln in 1864 to Mrs. Linda Bixby, a mother who lost five sons in the brutal national growing pain that was the Civil War.
The name-reading continued until 9:37 a.m., the third moment of silence — that's when American Airlines Flight 77 hit the Pentagon. (This is the first year that the Pentagon and Shanksville incidents will be remembered with a moment of silence in New York.) New York Governor Andrew Cuomo read a passage from FDR's famous "four freedoms" speech, enumerating all that which the American project has been based on: freedom of speech, freedom of religion, freedom from want and freedom from fear. Not long after, at 9:59 a.m., the fourth moment of silence was observed to make the collapse of the South Tower, followed by New Jersey Governor Chris Christie reading from Mary Lee Hall's poem "Turn Again to Life":
The fifth moment of silence came right after at 10:02 a.m., when United Airlines Flight 93 crashed in a field outside the town of Shanksville, Pennsylvania. (President Obama left ground zero soon after en route to Shanksville, where he is expected to commemorate the lives lost there later in the day). The sixth and final moment of silence was 10:29 a.m., when the North Tower collapsed. As it passed, Rudy Giuliani, New York City's mayor at the time of the attacks, came up to the lectern, where he read a passage from the book of Ecclesiastes:
Update I: Around noon, President Obama and First Lady Michelle Obama laid a wreath at the memorial for Flight 93 outside Shanksville, where 33 passengers and 7 crew lost their lives. Some 5,000 people were in attendance, many of whom were heard chanting "USA! USA!"
Update II: Earlier in the morning, at the U.S. embassy in London, ambassador Louis Susman was joined by Prince Charles, Prime Minister David Cameron, and London Mayor Boris Johnson for a ceremony commemorating the tenth anniversary of 9/11, which claimed the lives of 67 British citizens. "We will never, never forget," Susman said.
Update III: At 1 p.m., sirens will go off around New York City to mark a national moment of silence. The Port Authority of New York and New Jersey, which owns the World Trade Center site, has asked all Americans to participate.
Update IV: A ceremony was held at the Pentagon today attended by an estimated 1,600 people, many of whom were relatives of the 184 people — passengers and those on the ground — who died when American Airlines Flight 77 hit the iconic five-sided structure. Following a rendition of "Amazing Grace" by a Navy chorus, Vice-President Joe Biden stepped up:
He was joined by recently installed Defense Secretary Leon Panetta and chairman of the Joint Chiefs of Staff Admiral Mike Mullen, who eloquently eulogized those lost:
President Obama is expected to lay a wreath at the Pentagon later today.
Update V: The AP has collected several instance of 9/11 ceremonies around the world, including at a small shrine in Japan containing a section of WTC steel and in Paris where two nine-story replicas of the fallen towers were erected.
Update VI: Other remembrance ceremonies are being held around New York City, including at Tribute Park in Queens, where a piece of WTC steel will be unveiled, and at the NYC Fireman's Memorial in Riverside Park, where 343 American flags were on show, one for each of New York's bravest who perished rushing to the aid of those trapped in the World Trade Center on 9/11.
Update VII: At around 1:19 p.m., the last of the 2,983 names of 9/11's victims was read. This was followed by a rendition of the aptly chosen "I Will Remember You," sung by the Brooklyn Youth Chorus.