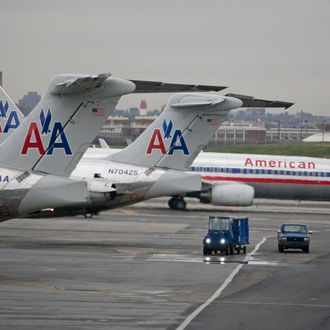 Two American Airlines Inc. planes sit at LaGuardia airport in New York, U.S., on Tuesday, Nov. 22, 2011. U.S. travel during the Thanksgiving holiday weekend will rise 4 percent from last year as Americans take trips they had put off because of the weak economy, AAA said.
Photo: Scott Eells/Bloomberg via Getty Images
American Airlines' parent company, the AMR Corporation, has filed for Chapter 11 bankruptcy. Not even all the baggage fees in the world could save the airline from filing: As of its last quarterly accounting, the airline was about $5 billion in the red. American was the only major airline that hadn't filed for bankruptcy, which, according to the Times' DealBook, had left it less "nimble," saddled with large legacy contracts. The filing promises to provide a little mini-boom to bankruptcy law practices, at least: Weil, Gotshal & Manges, Paul Hastings, Debevoise & Plimpton, and the Groom Law Group will all be involved in the restructuring.