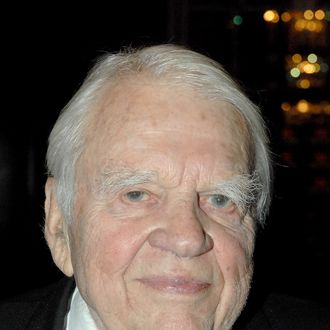 Andy Rooney in 2008
Photo: Joe Corrigan/2008 Getty Images
CBS News' in-house crank and much-loved essayist Andy Rooney died last night in a New York hospital from complications during minor surgery. The 92-year-old Rooney had just a month earlier filmed his 60 Minutes farewell (and 1,097th show), in which he signed off with that signature curmudgeonly note of his: "If you do see me in the restaurant, please, just let me eat my dinner." Rooney's more than 30 years as the increasingly jowly face of 60 Minutes — "beetle-browed and rumpled," said one AP obit, "he wasn't telegenic by conventional standards" — granted him membership to that rarefied club of great American public voices, alongside his onetime CBS colleague and "most trusted man in America" Walter Cronkite, who himself passed away just two years ago, also aged 92.
Rooney started out as a young war correspondent with the Stars and Stripes during World War II in England but is largely characterized, at least in the many early obituaries out this morning, as a writer at heart, a man willing to say out loud what others were merely thinking. This penchant for frank talk got him in trouble more than once, including for racist and sexist comments attributed to him, and the time in 1989 where he equated "homosexual unions" with cigarettes and alcohols as self-induced "ills which kills us." (He later apologized for the statement.) In these fast-changing times, dictated seemingly by Moore's Law, Rooney never did seem to let go of that Great Generation stodge — and perhaps we will all be the poorer for lack of it.
As a tribute to the man who brought the world "essays" on everything from too-long motion picture credits to "two-prong plugs in a three-prong society" to chairs and his wardrobe, here's a few markers and trivia bits from his long career on the air.
Subject of Andy Rooney's First Essay in 1964: Doors.
Who Hewed That Desk Rooney Always Sat Behind: Rooney himself — according to the CBS News article announcing Rooney's death, he was an "expert woodworker."
Line Most Often Erroneously Attributed to Andy Rooney: "Did you ever … ?" According to CBS News, Rooney never, not once during any of his essays, began a question with that phrase. The person who got all that started was comedian Joe Piscopo who used the line in a memorable series of Saturday Night Live sketches where he impersonated Rooney — he reprised the line in this 1984 HBO special.
Most Rooney-Related Complaints 60 Minutes Ever Got: 20,000, after a 2004 essay where Rooney said God had spoken to him and revealed to him that the raging anti-everything Reverend Pat Robertson and pottymouth Mel Gibson were "wackos."
Rooney's Self-Professed "Vindictive" Side: After an AP TV critic one time lambasted Rooney for letting 60 Minutes get stale, Rooney counterattacked by publicizing on the air the phone number for the AP's New York office — the newswire claims they received 7,000 phone calls in the following 48 hours. As Rooney said in a seemingly unrelated interview with the AP in 1998: "There's no question I have a negative streak, which has served me well."
A Taste of Rooney's Signature (Likely to Offend Someone) Cantankerousness: Our two favorites from a list of quotes compiled by Reuters: "Vegetarian — that's an old Indian word meaning 'lousy hunter.'" And "I didn't get old on purpose. It just happened. If you're lucky, it could happen to you."