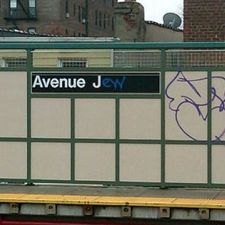 The sign has been removed.
Photo: Assemblyman Dov Hikind
Again. Less than a week after an anti-Semitic display in Midwood, Brooklyn, where cars were set on fire, a vandal added a couple of letters to a sign at Avenue J station, which now reads "Avenue Jew." Sure, it sounds like a catchy Off Broadway play, but this is just another hate crime in the heavily Jewish area and will be treated as such. Police are investigating and the sign has been removed.