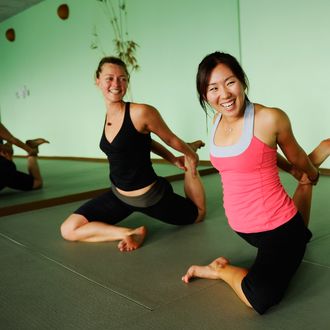 Photo: Kevork Djansezian/2010 Getty Images
Yoga to the People is famous among a certain set of New Yorkers — college kids, artists, homeless people, journalists, etc. — for offering free yoga at several locations in the city (along with branches in other cities like Portland and San Francisco). They also offer a very cheap hot yoga class that one officially certified Bikram studio in midtown said was responsible for putting it out of business this summer. Bikram Choudhury, the famously litigious guru behind Bikram yoga, took notice, and has filed a lawsuit against the Yoga to the People franchise, for using his trademarked series of poses performed in an Über-heated environment:
The lawsuit seeks damages in excess of $1 million, as well as an injunction stopping Yoga to the People from conducting hot yoga classes.

It's the latest in a series of lawsuits by Choudhury, who also sued Prana Yoga in Los Angeles in 2003, claiming copyright infringement similar to the YTTP lawsuit. Prana Yoga settled, agreeing to pay out "substantial monetary compensation," according to a Bikram Yoga press release.* 
The suit, which YTTP is fighting with a petition, raises the question of whether yoga poses performed in a certain way can constitute intellectual property. Yoga to the People says the suit threatens its whole business model, and that they'd go out of business if they were hit with those punitive damages. And where would NYU undergrads wear their yoga pants? Oh, right, everywhere.
This post has been updated to reflect a correction in the source article.