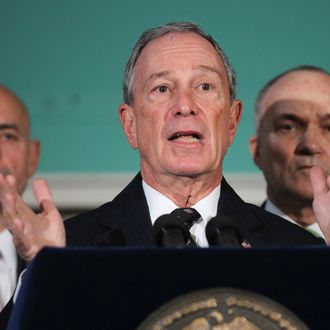 Photo: Spencer Platt/2011 Getty Images
No Iraq war veterans had their skulls fractured. The amount of pepper spray and tear gas used seems to have been small, though it's hard to tell from the murky video and fragmented eyewitness accounts. The police raid that cleared Zuccotti Park yesterday morning was a model of tactical efficiency. So we're better than Oakland. Yay.
But is that the standard by which the city and Mayor Michael Bloomberg want to be judged?
Bloomberg faced a thorny problem. Occupy Wall Street was a chaotic eyesore and public health problem. To his credit, for nearly two months, the mayor balanced the right to protest with the right of businesses and permanent residents to exist in relative peace. At least one administration official, deputy mayor Howard Wolfson, attempted to discuss a nonviolent endgame with the occupiers, only to be frustrated by the group's leaderlessness. But even the most irritated of Occupy Wall Street's neighbors believe there was a better resolution than a predawn raid. A legal secretary at One Liberty Plaza who'd been subjected to nonstop noise for the past two months, and who was happy the protestors were removed, stared at the newly cleared park and shook her head. "Coming in the middle of the night with no warning, and keeping the press out?" she said. "What were the police and the mayor scared of?"
It's hard to see what Bloomberg would have sacrificed by laying down a deadline for eviction in advance — or by going to court to ban tents first, instead of tearing them down and getting legal backup after the fact. If OWS still refused to leave or to scale back, or hadn't dwindled significantly as the temperature dropped, then a surprise attack on sleeping dissidents and miscreants might have been easier to justify. But the mayor wanted them out, he wanted them out now, and he didn't want a repeat of the indecisive October "cleaning" confrontation. Bloomberg and Ray Kelly, the police commissioner, say the timing and tactics were chosen to minimize the possibility of injury; they surely didn't want any more inflammatory YouTube clips, either. They reclaimed a half-acre, but they lost a claim on fair play.