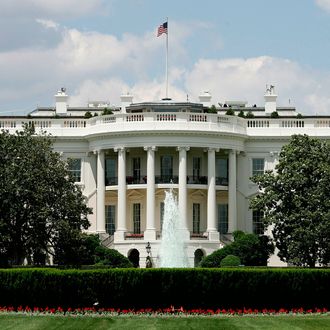 Bulletproof.
Photo: Alex Wong/Getty Images
The Secret Service found two bullets at the White House on Tuesday, one of which hit and shattered a window before being stopped by anti-ballistic glass. Another round was found outside. Conspiracy theorists, grab those tinfoil hats and fire up those ugly websites: Gunfire between two vehicles was reported about half mile away from the White House on Friday, and officials later found an AK-47 in an abandoned car. The bullets have not yet been conclusively linked to the shooting, but if they are connected, it took the Secret Service about four days to find the evidence. The White House is pretty big, we guess.
The U.S. Park Police have issued an arrest warrant for a 21-year-old man by the name of Oscar Ortega-Hernandez, who is thought to know more about Friday's shooting. "The actions that Mr. Ortega participated in on Friday evening – that being the discharge of a firearm near the White House – is an inherently dangerous activity, and because of that we do want to find Mr. Ortega as quickly as possible," said park police sergeant David Schlosser. "At this point, we're not certain what his intentions were."
It gets a little weirder: Ortega-Hernandez was stopped in Virginia on Friday morning for being suspicious, and was not arrested, but was photographed by police. A tattoo on his neck says Israel, the Guardian reports. Maybe it's his son's name?

Barack and Michelle Obama were in California during Friday's incident.
Update: Ortega-Hernandez was arrested this afternoon in Pennsylvania and is believed to be mentally ill.