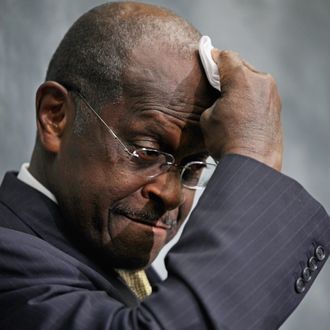 Herman Cain is sweating a lot these days.
Photo: Chip Somodevilla/Getty Images
The unflattering Herman Cain anecdotes are starting to pile up. Last night, just hours after Sharon Bialek's press conference, the Washington Examiner ran a story about one USAID worker's experience with Herman Cain in 2002:
>
Donna Donella, 40, of Arlington, said the USAID paid Cain to deliver a speech to businessmen and women in Egypt in 2002, during which an Egyptian businesswoman in her 30s asked Cain a question.

"And after the seminar was over," Donella told The Washington Examiner, "Cain came over to me and a colleague and said, 'Could you put me in touch with that lovely young lady who asked the question, so I can give her a more thorough answer over dinner?'"

Donella, who no longer works for USAID, said they were suspicious of Cain's motives and declined to set up the date. Cain responded, "Then you and I can have dinner." That's when two female colleagues intervened and suggested they all go to dinner together, Donella said.

Cain exhibited no inappropriate sexual behavior during the dinner, though he did order two $400 bottles of wine and stuck the women with the bill, she said.