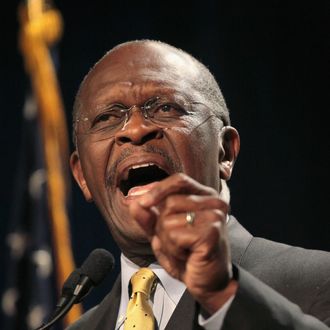 Photo: Scott Olson/2011 Getty Images
Herman Cain's chief of staff Mark Block, better known as the "smoking guy," is hell-bent on figuring out who keeps telling the media that Cain sexually harassed a bunch of women (besides the women themselves). First, he pinned the original story on a Rick Perry aide, only to quickly backpedal on his baseless allegations. Last night, Block told Sean Hannity that after more than a week of "connecting the dots," he's finally cracked the case, at least as it relates to one of the accusers, Karen Kraushaar. "We've come to find out that her son works at Politico," which first broke the story, said Block. "Have you confirmed that?" Hannity asked, responsible journalist that he is. "Uh, we've confirmed that he does indeed work at Politico, and that's his mother, yes." Uh, no.
If Block was referring to Josh Kraushaar, who used to work for Politico until 2010, but is now employed by the National Journal's "The Hotline," then the answer is still no. "If anyone was wondering, I am NOT related to Karen Kraushaar, the woman who accused Herman Cain of sexual harassment. Strange coincidence," Josh tweeted last night, before Block appeared on Hannity. Politico confirmed that Kraushaar does not work there, indicating that Block is simply reckless, and could really care less about facts or bloodlines.