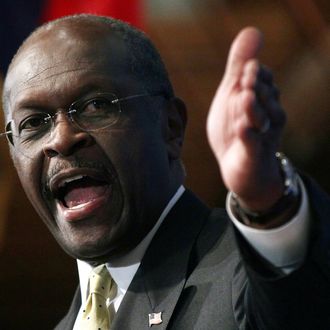 Photo: Win McNamee/2011 Getty Images
The next official all-in GOP debate, set to take place in Michigan, may still be four days away, but there's another, much smaller, Tea Party–organized debate taking place tonight in Texas you may not know about. The Lincoln-Douglas-style debate will pit current Romney-and-Perry-alternative Herman Cain against Newt Gingrich — so basically, the guy with the least amount of government experience and the guy with the most. Not on the roster of issues set to be covered are the slew of sexual harassment allegations Herman Cain has been facing from his days heading up the National Restaurant Association, nor the surprisingly ineffectual, bumbling response from his campaign. The most Gingrich, who considers Cain a friend, has said publicly about the matter were a few words of advice on CNN yesterday.
If you've never before been hit by the entire national press corps, it's a very disorienting experience. I think that he probably wasn't prepared for it and I think now he's got to sit down and sort it out and we'll see how he does.
The forum tonight is meant, as were the original Lincoln-Douglas face-offs, to get into the thick of policy and substance, a clear advantage for Gingrich. While unlikely to make for great television, maybe the Cain team is hoping their candidate will divert some of the brimming media attention from his allegedly inappropriate past self to his laudable ability to utter silly things when asked for concrete details.