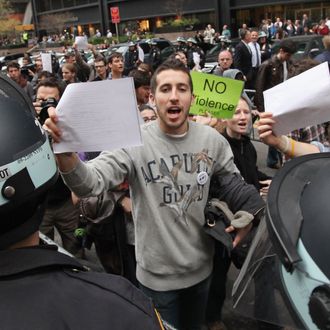 Photo: Mario Tama/Getty Images
Occupy Wall Street clearly lost a battle on Wednesday, as the NYPD's raid on Zuccotti Park raised serious questions about the movement's ability to continue on its chosen course. So the group's planned day of protests on Thursday has taken on an outsize importance, as the movement tries to assert that it is still capable of winning the wider war. With many protesters and local politicians voicing anger at the tactics of Mayor Bloomberg and the police, it could prove to be a volatile day.
Beginning at 7 a.m. on Thursday, the protesters will kick off a plan that suddenly has more eyes on it than it did at the week's start, when many saw the occupation as stalling, with the demonstrators' base overrun by stragglers and their message overcome by negative press. Even Adbusters, the Canadian magazine that originated the Occupy Wall Street idea, urged protesters to "declare victory" and spend the winter planning.
But now, a fighting spirit is in the air again, and the city (and doubtlessly the police) will look on anxiously as demonstrators march from Zuccotti Park to the New York Stock Exchange in an effort to disrupt the ringing of the trading-floor bell. At last night's assembly, a speaker demanded nonviolence at the march, but urged people to crowd the streets. He requested that those willing to risk arrest do so.
By 3 p.m. on Thursday, the group hopes to occupy the subways as well, using the disruptive "People's Mike" on afternoon trains, and then come together again at Foley Square across from City Hall for an evening demonstration "in solidarity with laborers demanding jobs to rebuild this country's infrastructure and economy." As in early October, the support of union workers can be crucial in building a critical mass. The official Occupy website hopes, perhaps optimistically, for "tens of thousands of people," and notes, "a gospel choir and a marching band will also be performing." The events hope to coordinate with actions internationally, from Portland to Germany and Spain.
But nowhere will the stakes be as high as in New York City, where the group feels they were wronged by Mayor Bloomberg and the NYPD. Overzealous police action has helped catalyze Occupy Wall Street's biggest gains in both public esteem and demonstration size over the last two months, most notably the NYPD pepper-spraying of nonviolent protesters and mass arrests on the Brooklyn Bridge early in the movement. As Harry Siegel writes in the Daily News today, "Once again, Bloomberg and Kelly have breathed new life into what had been a struggling political movement." Speakers at Zuccotti Park yesterday lamented their arrested brothers and sisters and condemned the police raid, which they said occurred "without warning or provocation." 
Both in small groups and to the larger audience last night, protesters who experienced the police action told over and over again of the hundreds of cops moving in on the encampment with bright lights and batons, confiscating and trashing people's possessions. The retellings were spirited every time and worked toward building an instant legend less than 24-hours after the events occurred. Inspiring fresh ill will toward the NYPD could make tomorrow's action more contentious, perhaps marking the largest and most invigorated march since protesters narrowly avoided eviction a month ago. Then, emboldened protesters crowded the street, resulting in dozens of arrests and a few violent incidents.
This time, the demonstrators will also have the support of local politicians, a few of whom have been vocal in opposing the mayor's raid. "It is simply outrageous that this action was taken with a show of force that resembles what the military would call shock and awe," said City Comptroller John Liu. City Councilmen Jumaane Williams and Ydanis Rodriguez were both present for Tuesday's overnight eviction, and Rodriguez was bleeding from the head when he was arrested. In a statement released today, Williams blasted Bloomberg and the NYPD for acting "with cowardice by trying to use the cloak of night, while people slept, as a shield from the highly questionable tactics they engaged in during their raid on Zuccotti Park." Echoing those at the reopening of Zuccotti Park last night, he added, "Mayor Bloomberg and his allies miscalculated on their raid, as Occupy Wall Street now has more energy than at any point before. That will be on display during the mass demonstrations tomorrow throughout New York City."
Update: In the below video from after Tuesday's eviction, one very worked up protester proposes burning this city to the ground and using Molotov cocktails on Macy's. While his anger in no way represents the entire movement, it's worth noting that in a large crowd, it only takes a few people acting out for things to get ugly.
But a crowd is exactly what demonstrators are hoping for, albeit a peaceful one. "I noticed a 279 percent increase in site visits to OccupyWallSt.org between Monday, November 14th and Tuesday the 15th on our Google Analytics tracker," Harrison Schultz, a key organizer, told us. "I'm expecting a similar trend to occur on the ground."