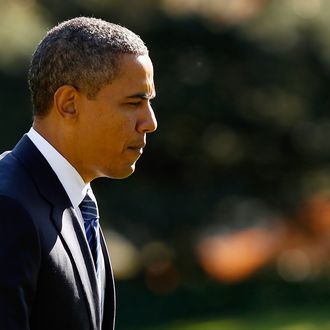 Photo: Chip Somodevilla/Getty Images
Esteemed right-wing intellectual Charles Krauthammer — winner of the Breindel Award, the Irving Kristol Award, and the Bradley Prize, which are among the various prizes available to right-wing apparatchiks, as well as the Pulitzer Prize, which is available to right and left alike — is outraged that President Obama thinks Americans are lazy. Krauthammer presents his evidence that Obama secretly hates America:
"When you call your own country 'lazy' when you are abroad and you call it unambitious and soft when you're home, I think what you are showing is not tough love, but ill-concealed contempt," Krauthammer said on FOX News' "Special Report."

"Obama is ready to blame everybody except himself for the lousy economy. … And now he blames Americans' laziness. I think it's unseemly."
Wait, you say – you hadn't heard that Obama said Americans are lazy? Those of you familiar with Krauthammer's intellectual methods may not be surprised to learn that Obama did not, in fact, call Americans lazy. He was describing America's policy-makers as being lazy about attracting businesses:
"We've been a little bit lazy, I think, over the last couple of decades. We've kind of taken for granted, well, people will want to come here and we aren't out there hungry, selling America and trying to attract new businesses into America."
Kind of a different thing, no?
Krauthammer seems to be making a version the famous Otto Defense from Animal House. If Obama wants to condemn America's regulatory policies, then he's really indicting the entire government. And if he's indicting the whole government, then he's really indicting the American people. Take it away, Otter:
I suppose one difference here is that Otter is a fictional character making an obviously stupid argument, while Krauthammer is supposed to be an intellectual.