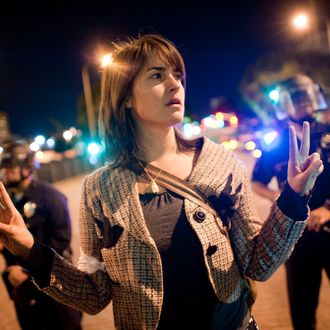 Photo: Michal Czerwonka/Getty Images
Riot police are still on alert in Los Angeles, where protesters were ordered to leave the City Hall lawn by midnight Pacific time. The deadline came and went without a mass exodus, but also without incident. "It is not our intent to clear the park at this time," the LAPD announced over a loudspeaker. "It is only our intent to clear the street. Thank you in advance for your cooperation." Protesters were told they had until 4 a.m. to clear the street before arrests would begin, which was then pushed to 4:30 a.m., as police declared those in the road to be unlawfully assembled. "Right now we have no plans to go into the encampment," said an LAPD commander, though Reuters reports that the new deadline may be daybreak. At Occupy Philadelphia, protesters were ordered out of Dilworth Plaza by 5 p.m. on Sunday; they're still hanging around.
No arrests have been reported Monday in Philadelphia, but police presence remains strong at the two-month-old encampment. The city wants the space cleared, they say, for a construction project.
The mood was described as celebratory in Philly and L.A., as both groups considered standing their ground to be a temporary victory for a movement that has been systematically weakened over the last few weeks, losing its home base in Zuccotti Park, for instance. "We're still here, it's after 12, ain't nobody throwing anything at the cops, they haven't come in and broken anyone's noses yet, so it's a beautiful thing," an L.A. protester told the AP.
"People have been pretty cooperative tonight. We want to keep it peaceful," said the LAPD commander. Another protester was optimistic, for now: "The best way to keep a non-violent movement non-violent is to throw a party, and keep it festive and atmospheric." Whatever happens next, it will likely occur in daylight, which is more than can be said for our local crackdown.
Both Philly and L.A. are being livestreamed: