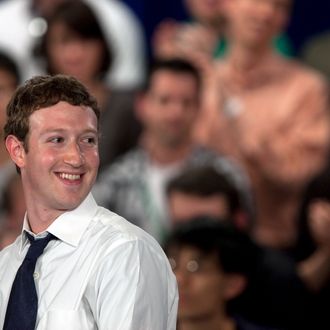 Photo: Bloomberg/2011 Bloomberg
The social networking giant Facebook Inc. continues to tease investors anticipating its initial public offering, which The Wall Street Journal hears has been inched back up to April or June 2012, after previous reports that it would occur later next year. Current chatter has Mark Zuckerberg and co. working with the SEC on an exact filing date, with eyes toward raising $10 billion, thereby valuing the company at $100 billion. A Facebook spokesman said, "We're not going to participate in speculation about an IPO." Even without him, there's more than enough speculation to go around.
According to the Journal's anonymous sources, Facebook has created its own prospectus, or SEC-required business outline, although outside bankers or lawyers typically handle that part of the filing. Investment banks, too, are being kept at arm's length because Facebook might not even need them, "since the company is so highly sought after by major investors."
Facebook could be only the fourth American company to complete an IPO over $10 billion, joining Visa, General Motors, and AT&T. An offering that size would dwarf any Internet or technology company so far, include rival Google, which holds the top domestic spot with its $1.9 billion 2004 sale. Cue Zuckerberg's maniacal (nervous?) laugh.