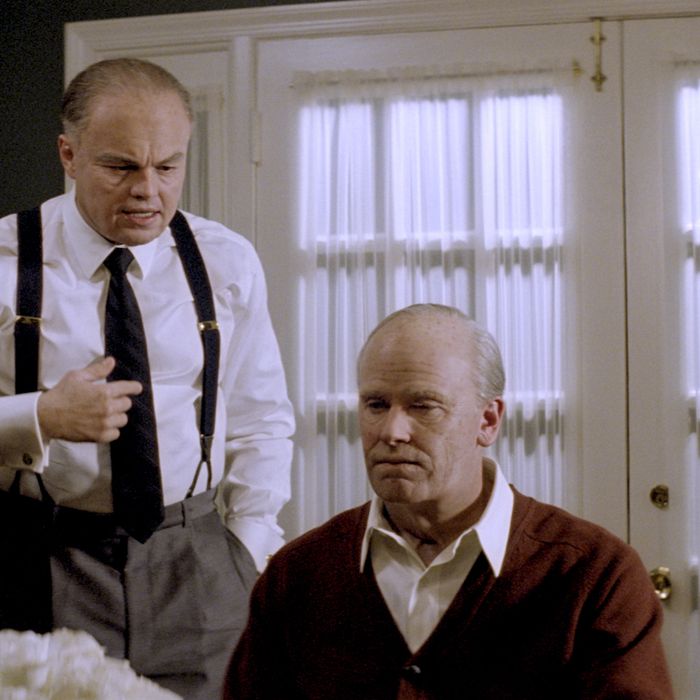 "J. EDGAR" - Warner Bros. Pictures
Photo: Courtesy of Warner Bros./?2011 Warner Bros. Entertainment Inc. - All Rights Reserved
It's not only the critics that are panning Clint Eastwood and Leonardo DiCaprio's J. Edgar biopic. FBI agents are apoplectic at the film's fictionalized portrayal of the private life of the agency's first director — specifically, the gay claims. The Post reports: >
The widespread unhappiness over Hollywood's imagined rendering of Hoover's rumored-but-never-proven personal life largely comes from men who started their FBI careers when Hoover was still in charge.
These older men have been exchanging furious e-mails on the questionably named listserv "xgboys," "a closed e-mail list for FBI retirees that takes its name from one of Hoover's pet dogs." 
It's not only the critics that are panning Clint Eastwood and Leonardo DiCaprio's J. Edgar biopic. FBI agents are apoplectic at the film's fictionalized portrayal of the private life of the agency's first director — specifically, the gay claims. The Post reports: >
Even four decades after his death, the former agents are near-religiously devoted to their ex-boss. They hold a romantic view of his life that does not include gay romance — or Eastwood's sexy scenes depicting the doe-eyed Hoover kissing his handsome protégé, Frank Tolson, or putting on an impromptu drag show in his mother's dress.
The old boys crushing on Hoover are quick to decry cinema sensationalism and to ignore their former director's history of silencing dissenters, starting communist witch hunts, being homophobic, and chasing after Eleanor Roosevelt's alleged lesbian lovers. To fight back against Hollywood's homosexual narrative, they're focusing on "his thoughtful gestures" and organizational skills.
Older agents say their admiration for the late director is cemented in his role in building up the FBI and instituting several law enforcement innovations, such as crime labs and fingerprinting databases. Many cite his thoughtful gestures … the personal notes he sent to mark special occasions in an agent's family.