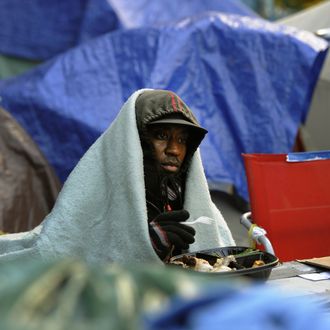 A somewhat cold-looking protester.
Photo: Timothy A. Clary/AFP/Getty Images
Nearly two weeks ago, as temperatures started to drop, the FDNY confiscated generators from Zuccotti Park, ostensibly because of concerns over fire safety. But in response to objections from Occupy Wall Street lawyers, who say the FDNY didn't follow proper procedures, the generators were returned yesterday. With cold weather no longer an impediment, the protest could basically last forever. Years from now, it might just be another neighborhood in Manhattan. "I just got a great deal on a one-bedroom shack in Zuccotti Park," people will tell their friends.