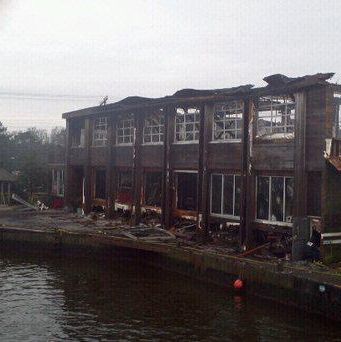 Photo: Michael Mastrolembo
On Monday night, flames engulfed the commercial center of Fire Island Pines, quickly destroying the Pavilion and Sip n Twirl — two legendary nightclubs at the heart of the legendary gay beach community. Hundreds of firefighters from dozens of departments on Fire Island and Long Island battled the blaze, which also destroyed several other businesses and damaged a nearby home. The cause of the fire is under investigation. The Pavilion's owners, who bought the venue and surrounding properties for $17 million in 2010, have said they plan to rebuild.
 When the blaze first erupted, five lonesome volunteer firefighters were on duty at the Pines. One of them was Rob Sperte, 45, who is also a D.J. who has played at clubs on Fire Island and in Manhattan. He spoke to New York's Mark Leydorf, his on-and-off housemate at the Pines for nearly a decade.
When you first approached the harbor, what went through your head?
Strangely enough, when I heard the alarm that night, I got some really bad vibes. I always jump out of my skin when it goes off, but that night I had a bad feeling. In the Pines, there's no getting in a car to drive — I run or ride my bike. We didn't have to go far to see what was happening. One of the businesses, C.F. Lafountaine, was on fire between the Pavilion and Sip n Twirl. As we were hooking up the water lines, propane tanks began to explode [Lafountaine, located under Sip n Twirl, supplies many houses with gas for their grills], and a steady eastern wind fanned the flames between. Everything went up very quickly.
 How long was it before the island's other fire departments began to arrive?
Within the first half-hour. I was so busy that one minute I saw two or three people working with me, and the next minute it seemed there were hundreds.
How did you feel when the ferry arrived with reinforcements from Long Island?
I was actually in awe. Out of nowhere, about 50 firefighters marched up behind us to help. Approximately 400 firefighters were sent to help us. These guys were pumped, ready, professional, friendly, and just rocked it out there. Everyone out there — residents, workers, and neighbors — were heroes. Like so many other situations in life, people just come together. Everywhere I went, no matter what I was doing, someone was there to back me up. The incident command center set up at the Fire House was awesome! Wow. There were some very well-trained and very cool people there helping us. Amazing.
You were at the fire from 9:25 p.m. Monday until 7:30 p.m. Tuesday, correct?
They sent me to rest for a few hours at 3:15 a.m., but I was too pumped to sleep. I stared at the ceiling, had a protein shake, and went back to the site at 5:30 a.m. I finally got to sleep at 8:00 p.m. Tuesday.
Did you dream about the fire?
I didn't dream of anything. I think I hocked up some barbecued dance floor when I woke up, but otherwise felt great and energized to get back to the scene.
Tell me about the first night you ever went to the Pavilion.
My first time was in the late eighties. Michael Fierman was playing — one of my all-time favorite D.J.'s. All I remember is dancing my ass off, feeling sexy, high, and wonderful. It was a smaller club than I was used to, but it had the same intensity as any of the bigger clubs in New York at the time. You had some of the best D.J.'s in the world. It was simply an extension of all the legendary, popular sounds and places in New York at that time — 12 West, The Saint, etc.
You're a D.J., and I think you even spun at Sip n Twirl once or twice — what's different about being in the booth at the beach?
I'd say that before the last ten years, you just had to be authentic, have fun, and work it. Nowadays, New York's dance music scene is the pits. There's more of a bar crowd hanging out at the clubs on Fire Island. It's a more pop-driven crowd, so you need to be flexible with your music. I hate saying that, but the Pines has really gotten quite vanilla. Thank God for D.J. Lina and some of the [other] legendary D.J.'s that can still bring it.
In recent years, the Pavilion went through an awkward "Food Museum" phase, right?
Yes, they tried updating it. Totally screwed up the connectivity and spiritual vibe of the original space, and added a store that sold food that sat in the display counters until it was gray. Hence the "Food Museum".
Did Sip n Twirl stay the same, with that deck that always seemed like it was going to collapse during Lina's tea dance?
It didn't change and become pretentious. [It stayed] a more intimate experience. Second, they [brought in] Lina to rock that place into the now with some feel-good party vibes. She changes it up each night and she serves it proper. She knows many people want something special and, yes, a little more soulful, and not Gaga. I love her. Can you tell? By the way, that deck where Lina spun is still standing after the fire.
Did you ever fall in love on one of those dance floors?
I've never fallen in love on any dance floor, except with a few D.J.'s over the years.
Will they rebuild?
Definitely! [The two clubs] were different, and they made mistakes at the Pavilion. I hate that it burned down, but I welcome a new and improved space and journey, for both spaces. It will be beautiful no matter what because Fire Island Pines — and Fire Island at large — is one of the most unique and beautiful places on earth.
Does the Pines Fire Department have a calendar?
We should have a calendar. It would be hot. And by the way, the firefighters on Long Island who helped us … whew! You should have seen them in action. Hell, you should have just seen them.