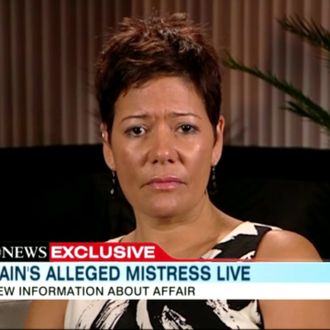 She "never wanted to" do this.
According to Ginger White, Herman Cain was a very nice man to have an affair with. He "never harassed her, never treated her poorly," she reportedly told Fox's local Atlanta station. He took her on "several trips," including the romantic time he brought her to see Mike Tyson rip Evander Holyfield's ear off with his teeth in Las Vegas, White told George Stephanopoulos on Good Morning America today. Cain has also "consistently" helped her out financially for the past two and a half years, she admitted to Stephanopoulos. Which all begs the question: Why, exactly, is she turning on him now?
White: The funny thing about Herman Cain is, never in a million years did he probably think that I would speak out on this. And honestly speaking, I never wanted to. I wanted to come out with this to tell —

Stephanopoulos: So why did you?

White: To tell my side of the story.
As opposed to the other side? What other side?