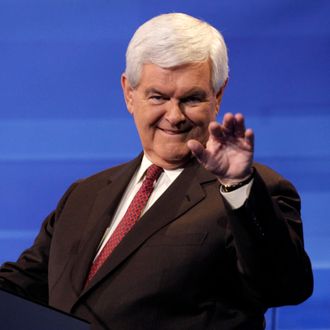 Photo: Charlie Neibergall-Pool/Getty Images
In the aughts, Newt Gingrich made a boatload of money. "Newt World" isn't a history-themed amusement park, but rather the nickname given to the network of think tanks and companies built around the former House Speaker's political influence, including, but not limited to, the Gingrich Group consulting firm (for which Freddie Mac paid a controversial $1.6 million), the Center for Health Transformation, Gingrich Communications, and the American Solutions for Winning the Future. "We've had plenty of political figures who've come out and done a lot of speaking at high rates, done some consulting, gone into lobbying, and made lots of money," an old colleague of Newt's from the American Enterprise Institute told Politico. "But nobody that I've ever seen has come close to building the type of complicated web that Newt did and parlaying it into apparently as much incredible money as he did." Things aren't going so well now that Newt is running for president.
In support of his run, the suddenly serious candidate plucked his campaign manager and nine other top staffers out of his business network, and to make things even more incestuous, "is also using some of the same fundraising, mail and communications consulting firms that were paid by Newt's groups, including one of his own companies, Gingrich Productions, which the campaign paid $8,400 for 'web development,'" Politico reports.
But not all heads of the Hydra are making out well. American Solutions folded in June because of trouble fund-raising, while the nonprofit Renewing American Leadership has seen its donations drop 50 percent post-Newt. When Gingrich was around, companies would pay his think tanks millions of dollars for his support. Now, in the words of Gingrich's longtime spokesman Rick Tyler, "it should not be surprising that when Newt is unable, by virtue of his being a presidential candidate, to raise money for these groups, that their revenues would go down. He was the most prolific fundraiser for all these groups."
A former staffer tells Politico that the businesses merely "served as vehicles to maintain a political profile" and "laid the foundation for his presidential campaign, both in terms of talent or staff, and in terms of networks of volunteers and donors." But Tyler said the ten staffers who moved on to work for the campaign show that Gingrich "engenders loyalty." According to IRS and FEC filings, that loyalty has since paid the staffers more than $2 million collectively.