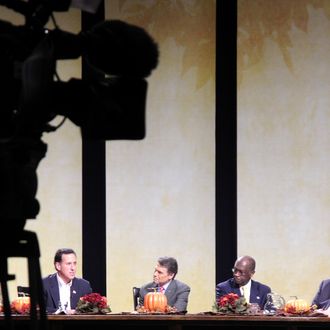 Four GOP candidates at yesterday's forum. (Emmanuel PARISSE/AFP/Getty Images)
Photo: EMMANUEL PARISSE/2011 AFP
Yesterday, the National Organization for Marriage and the Family Leader co-sponsored a debate, of sorts, except instead of in some auditorium it took place in front of 3,000-plus people in a Des Moines evangelical church, and instead of podiums there was a table tackily decorated with some apparently real pumpkins, and instead of talking about the economy — the primary concern for a majority of likely Iowa caucusgoers — this forum was all about being a Christian and bashing abortion and gay marriage. Here, a roundup of highlights from the conversational roundtable, including a few missing faces, tearful revelations, and the oddest attack on the IRS we've heard in a while.
Most Understandable Absences: The two Mormons in the race, Jon Huntsman and Mitt Romney, chose to sit this one out, probably a smart move since most Christian evangelicals are still uneasy about their religion. (Or is it a cult?) But Romney's absence was certainly felt — the head of the Family Leader said Romney was "dissing" the GOP base by not attending.
Most Uncomfortable Moment: At the very beginning, Michele Bachmann, the sole woman, stayed standing to pour water for the six men at the table. "I've poured a lot of water in my time," she joked. Maybe she was once a waitress? Or maybe she's not used to her husband helping much at the dinner table?
Gingrich on Finding God Through Alcoholics Anonymous: "I wasn't drinking but I had precisely the symptoms of someone who was collapsing under the weight," he said, mentioning the pain he'd caused others (read as an oblique reference to his two divorces). Where he found God? Alcoholics Anonymous literature.
Santorum, Cain Well Up: Rick Santorum got teary-eyed when admitting to not fully loving his disabled daughter when she was born and Cain choked up when describing his diagnosis with Stage 4 liver cancer, recounting how he came out of the doctor's office and told his wife Gloria, "I can do this." Her response: "We can do this."
Oddest Attack on the IRS: At one point Cain blamed the country's tax code for intimidating pastors so they don't discuss social values and issues. "The IRS is what causes many of them to take the easy way out," he said. Yeah, we're confused by this as well.
Gingrich's Crotchety Occupy Wall Street Zinger: Gingrich delivered yesterday's fan favorite one-liner while having a go at the Occupy Wall Street protests: "Go get a job, right after you take a bath."
Least Interesting Person Up There: Rick Perry, who, explaining how he found God, basically just read the section from his candidate biography about how he came home from the Air Force and felt something was "missing."
Ron Paul Sounding Reasonable: "The law can't reflect the morality of the people," he said, rejecting federal bans on abortion or gay marriage, "our goal ought to be to preserve liberty."