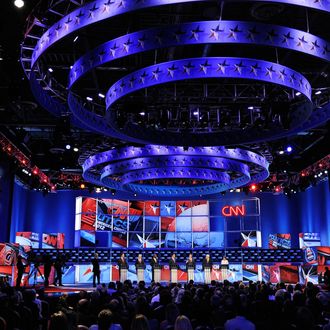 The stage is set … LITERALLY!
Photo: Ethan Miller/Getty Images
After a couple of weekend debates that nobody saw or paid attention to, the endless parade of GOP primary debates returns to the work week tonight in Washington. The 8 p.m. debate, which will air on CNN, is co-sponsored by the Heritage Foundation and the American Enterprise Institute, two conservative think tanks, and will focus on national security issues. So expect the following:
• Mitt Romney, Newt Gingrich, Rick Perry, Herman Cain, et al, telling us that we need to stay in Afghanistan until every last general unanimously agrees it's time to go.
• Jon Huntsman differentiating himself from the rest of the field's interventionists, but in an utterly emotionless and unmemorable way.
• Ron Paul being being asked, every so often, whether he agrees with the over-the-top hawkish thing another candidate just said.
• Herman Cain making up dubious excuses for why it took him 45 minutes to answer a basic question about the war in Libya. 
• Lots of unspecific critiques of President Obama's handling of Libya. 
• Rick Perry being asked to elaborate on his support, voiced last night on Fox News, for the unilateral creation of a no-fly zone over Syria.
• Unanimous assertions that President Obama is "soft on terror," despite everything.
• Newt Gingrich castigating the moderators because they asked him about something he'd rather not talk about.