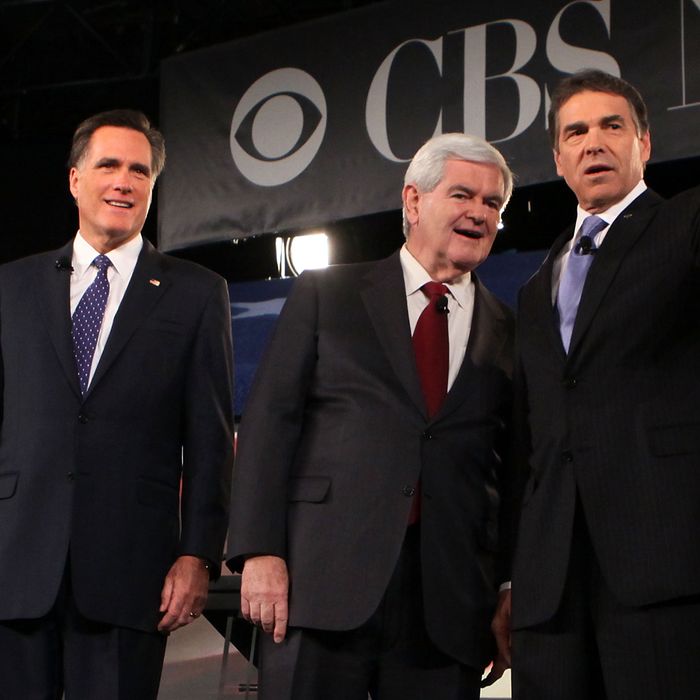 (Alex Wong/Getty Images)
Photo: Alex Wong/2011 Getty Images
With the economy bleak, many Obama supporters have grasped on their candidate's solid foreign policy credentials, what with the killing of Osama bin Laden, the successful NATO-assisted overthrow of Muammar Qaddafi, and the drawdown of Iraq and Afghanistan troop levels. But last night's GOP debate in South Carolina saw the Republican field trying to undercut that advantage: Herman Cain said the Arab Spring had been horribly mismanaged by the administration and Mitt Romney said, "If we re-elect Barack Obama, Iran will have a nuclear weapon." On subject after subject, the candidates tried to out-hawk each other and the president, with perhaps the most surprising development being that Michele Bachmann, Herman Cain, and Rick Perry would all like to reinstate waterboarding.
Ron Paul found himself, as he has in the past, ideologically isolated from the rest of the field, arguing vehemently that waterboarding is a breach of law. On the Iran question, with many of his opponents alluding to or outright invoking the military option, Paul came out with this loaded one-liner: "I'm afraid what's going on right now is similar to the war propaganda that went on against Iraq." (It should be mentioned that Herman Cain did say the solution had to be more economic sanctions.)
On the Perry gaffe front, the Texas governor did have observers buzzing when he said that, "The foreign aid budget in my administration will start at zero dollars. Zero dollars. And then we'll have a conversation." Later, when a Twitter user asked how that would affect, for instance, America's close-though-delicate relationship with Israel, Perry added: "Obviously, Israel is a special ally, and my bet is that we would be funding them at some substantial level. But it makes sense for everyone to come in at zero and make your case." Calling this a gaffe, though, is a serious overstatement. Even Newt Gingrich, certainly one of the smarter people on that stage, backed Perry up on this.
The big loser of the evening without a doubt, though, was CBS News, which broadcast the debate. First, there was the e-mail written by CBS's political director John Dickerson, erroneously sent to the Bachmann campaign, that said the former tea-party powerhouse might not get many questions because of her tanking poll numbers. Dickerson defended himself to Politico's Ben Smith by saying: "Bachmann is at 4 percent in the polls and has been for a while. Other candidates aren't. I sent an email based on that."
Perhaps more embarrassing was the fact that after the first 60 minutes of the 90-minute debate, CBS shunted the broadcast to a choppy web live stream. "We weren't programming it for reporters in Washington D.C.," one CBS spokesperson explained, unconvincingly, to Politico, adding that the last 30 minutes were meant for South Carolina viewers — that, even though the four CBS stations in the state failed to carry it. As representative Glen Bradley of neighboring North Carolina so succinctly tweeted: "CBS Debate tonight was pure amateur hour — with CBS being the amateurs."