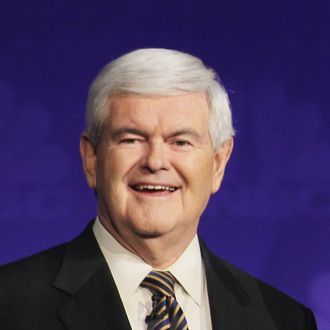 Photo: Scott Olson/Getty Images
A Fox News poll asked Republican primary voters who they would "trust most with nuclear weapons." The winner is erratic hothead Newt Gingrich, with 30 percent.
If you're surprised that they picked Newt instead of, say, the sober, careful, calculating Mitt Romney (chosen by 17 percent), you're not thinking like a right-winger. The guy you would trust most with nuclear weapons means the guy most likely to use nuclear weapons. Romney would probably wimp out. Gingrich would use nukes to settle a fishing dispute, or possibly to impress a prospective fourth wife.