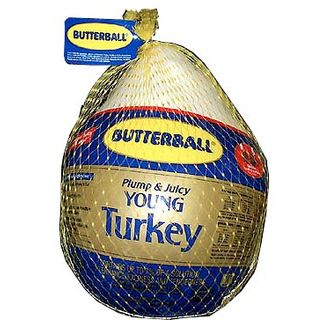 The Internet's most visible hater of Islam, Pamela Geller, is warning all Americans this Thanksgiving about a dastardly new force that's threatening the freedom of our holiday dinner tables: Butterball turkeys. According to Geller, in a column from The American Thinker, the turkey brand is forcing sharia law onto all of us by offering whole turkeys that are "certified halal." Geller is aghast: "In a little-known strike against freedom, yet again, we are being forced into consuming meat slaughtered by means of a torturous method: Islamic slaughter." Yet again!
Geller has the background, in her typically measured tone:
Halal slaughter involves cutting the trachea, the esophagus, and the jugular vein, and letting the blood drain out while saying "Bismillah allahu akbar" — in the name of Allah the greatest. Many people refuse to eat it on religious grounds. Many Christians, Hindus or Sikhs and Jews find it offensive to eat meat slaughtered according to Islamic ritual (although observant Jews are less likely to be exposed to such meat, because they eat kosher).
While Geller attempts to rally the PETA folks to her side by calling the practice crueler than normal, another more neutral take contends that halal slaughter "differs from turkeys which are slaughtered in traditional turkey farms or plants in the United States, where turkeys are kept in cramped conditions and slaughtered in a sort of assembly line by machinery which many find to be inhumane."
Geller will not be convinced otherwise: "It's Islamic supremacism on the march, yet again," she promises. (Yet again!!) "So this Thanksgiving, fight for your freedom." Her "Boycott Butterball Turkey" group on Facebook currently boasts 1,078 "likes," and comments like, "Liberal Fascists are indoctrinated to hate whites, Jews, America, Americans, Free Markets, Christians, history, economics, numbers, and facts." Liberal fascists, however, love Butterball.