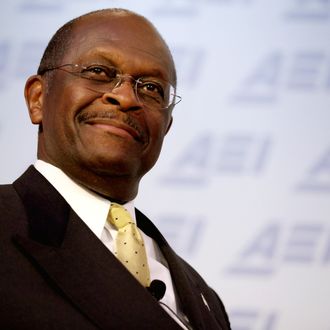 God forbid a Muslim doctor try to save Herman Cain's life.
Photo: Chip Somodevilla/Getty Images
When Herman Cain made an appearance at a Jesus-themed amusement park in Florida recently, he made an effort to connect with the pious Christians who had decided to spend their day there instead of someplace even remotely fun. And what better way to ingratiate yourself to your Christian brothers and sisters than telling an anecdote about how much you hate Muslims! As Yahoo's Chris Moody reports:
He did have a slight worry at one point during the chemotherapy process when he discovered that one of the surgeon's name was "Dr. Abdallah."

"I said to his physician assistant, I said, 'That sounds foreign — not that I had anything against foreign doctors — but it sounded too foreign," Cain tells the audience. "She said, 'He's from Lebanon.' Oh, Lebanon! My mind immediately started thinking, wait a minute, maybe his religious persuasion is different than mine! She could see the look on my face and she said, 'Don't worry, Mr. Cain, he's a Christian from Lebanon.'"

"Hallelujah!" Cain says. "Thank God!"

The crowd laughs uneasily.
We're almost shell-shocked by how unbelievably bigoted that story is. Apparently, in addition to being terrorist sympathizers who want to replace the Constitution with Sharia, Muslim-Americans are supposed to be pro-cancer now, too.