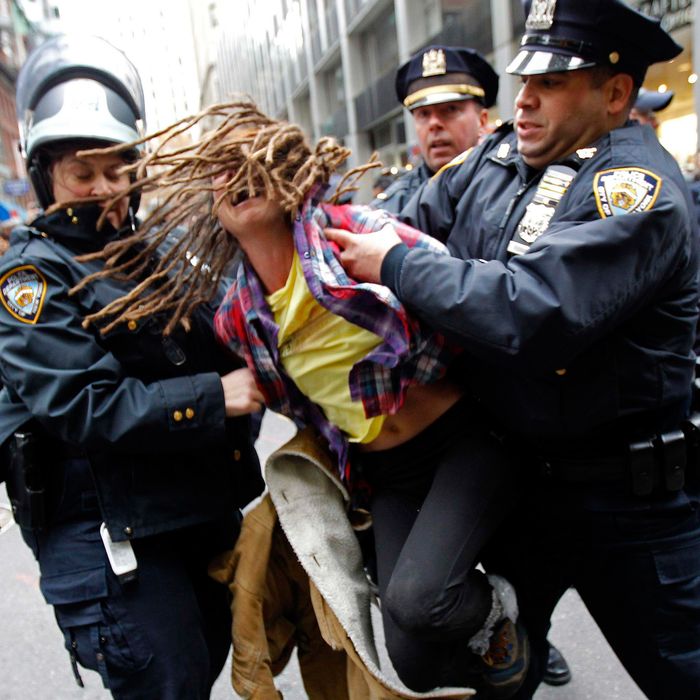 Photo: ? Mike Segar / Reuters
Update, 10:19 p.m.: The Daily News estimates that several thousand people marched across the Brooklyn Bridge. The bridge protest was largely peaceful and the marchers have now returned to Zuccotti Park.
Some technologically adept Occupiers have been projecting a series of messages onto the giant Verizon building on the east side of Manhattan: "You are a part … of a global uprising … from the heart … another world is possible … we are winning. Check out the video here.
Update, 6:30 p.m.: The Times reports that 60 protesters have already been arrested at the foot of the Brooklyn Bridge, where they sat in the road and chanted, "All day, all week, Occupy Wall Street." Among the arrested demonstrators was City Councilman Jumaane Williams. The police are going to need some more arrest buses.

Update, 6:20 p.m.: Thousands of protesters have gathered in and around Foley Square, and next on the agenda is a giant march to the Brooklyn Bridge, which will cap off today's action-packed two-month anniversary of the protest's beginning. Way back at the start of October, remember, protesters marched on the Brooklyn Bridge, resulting in hundreds of arrests. Today they've made damn sure the NYPD knows they're coming.
http://www.youtube.com/watch?v=8FFA18IvFyE
Update, 4:33 p.m.: In an afternoon press conference, Police Commissioner Ray Kelly said 177 people connected with the protests have been arrested so far today. The NYPD reports that the overtime tab for the city's cops is currently at $8 million.
"Unfortunately, some protesters today have deliberately pursued violence," said Mayor Bloomberg. "Even in the face of this antagonism, the police maintained incredible restraint." In a dig at the day's action, he added, "The real story for tomorrow morning's paper was there were just not that many people out here."
Protesters are currently demonstrating at subway stations around the city and marching around Union Square, where the crowds look pretty strong, at least from the Internet. Plans call for the protest to move next to Foley Square, a few blocks from City Hall.
Update, 2:13 p.m.: The clash appears to have subsided again, as people are being allowed to exit and enter the park. The Daily News reports that an injured cop may have been the reason for the rush, and quotes an officer as saying, "There is an injured officer with a laceration to his hand. He is in stable condition. The protester had a glass object in his left hand. It's going to require stitches. The man who assaulted the officer is not in custody." The Times is now reporting that the protester with the glass has been apprehended.
Eyewitnesses, meanwhile, are describing a protester who was kicking a barricade and caused a scuffle as police tried to detain him.
Update, 1:53 p.m.: The NYPD is reportedly raiding Zuccotti Park again, entering with batons drawn and not allowing anyone to enter or exit the park. The scene is somewhat chaotic as journalists on the outside attempt to figure out what's going on inside. Mass arrests appear imminent as paddy wagons have pulled up and cops in riot gear surround the perimeter. The live-streaming of video persists. The videographer reports that a protester requesting to exit the barricades asked if he was stuck inside and an officer responded, "Yup." Protesters can be heard chanting, "We are the 99 percent," and "Leave our park."
The Daily News reports that a police officer was hit in the head with a bottle, and a protester bleeding from the head was also seen being escorted out of the park by police. Sound cannons have also been deployed against protesters.
Update, 12:58 p.m.: After a frenzied attempt by marchers to break down heightened security at Zuccotti Park, barricades were placed back around the area by 12:30 p.m. as the struggle between police and protesters subsided. Police say there were at least 75 arrests in the morning. During the return to the park from the morning's Stock Exchange march, the Times reports, "Officers could be seen shoving and hitting protesters and journalists."
Update, 12:00 p.m.: Groups of demonstrators are now headed out of Zuccotti and towards the Brooklyn Bridge and City Hall, where there are plenty of police set up and waiting. Another group headed up Cedar Street, where police in riot gear mobilized.
Update, 11:11 a.m.: The New York Times reports that protestors, amid chants of "our park", are trying to remove and jump the police barricades at Zuccotti. Police have moved in, and there have been several arrests.
Update, 10:30 a.m: A group of protestors is headed back to Zuccotti; another is ensconced on Wall Street. Police say about 60 protestors have been arrested this a.m. There was a scuffle on William Street, as demonstrators took over the street, but it's now been cleared. Meanwhile, there were several arrests outside Trinity Church; one woman there spilled her tea while she was being arrested, then grabbed the container and threw the liquid on two cops. The church is also playing host to several topless women, who say they're protesting the treatment of women at Zuccotti Park.
Update, 9:40 a.m: The Stock Exchange's opening bell rang on time at 9:30 a.m. Protestors responded by ringing a "people's bell" outside, where Wall Street workers struggled to press through the crowds to the office.

Update, 9:21 a.m.: Nassau and Pine has been reopened to traffic, after arrested protestors were bussed away. There have also been arrests on Beaver Street, near New. And one arrestee this morning was a retired police captain named Ray Lewis, whom the crowd cheered as he was taken away. There's also a mini counter-protest, begun by people saying they want to get through to their offices — a group of men holding signs reading Get a Job and Occupy an Office. Elsewhere, an observer caught what looks like a Wall Streeter throwing a punch at a demonstrator.
Update, 8:24 a.m.: The march, which has swelled dramatically in size already, remains fairly peaceful: Lots of chanting, an ever-growing police presence, but no drama quite yet. Protesters have approached barricades at at least a couple sites, including Pine and Nassau and Wall and Hanover, but they've largely, it seems, either stopped to wait, or turned to continue marching. There's also been a sighting of Hipster Cop, who was apparently greeted with cheers — perhaps a sign that no one's in a truly combative mood yet today.
A group of protestors, perhaps 300 strong, thronged outside Zuccotti Park and in front of 140 Broadway this morning shortly after 7 a.m., preparing to begin a day of action that will include a march on Wall Street, aimed at disrupting the New York Stock Exchange. Downtown Manhattan was filled with chants of "All day, all week, shut down Wall Street," and "They got bailed out, we got sold out." At least some protestors are wearing suits to "blend in," but police are attempting to set up barricades, requiring company ID to get past, and NYPD spokesman told Salon's Justin Elliot they're planning to expand the perimeter. Elliot asked Occupy Wall Street's press rep how they planned to respond to the barricade. "I don't think it'll disappoint," the spokesman told him.
Today's protest (being live-streamed on the web) is meant as a direct response to Tuesday's NYPD Zuccotti Park raid, and the city (including the MTA) is prepared for tens of thousands of protesters and a long day of disruptions. Several unions plan to participate, including health care and transport workers, which will swell the ranks of the protestors. The day will end with a march to Brooklyn Bridge, but first, demonstrators are aiming to interrupt the 9:30 a.m. Stock Exchange start, which Michael Bloomberg found unlikely. "The New York Stock Exchange will open on time. People will be able to get to work, you can rest assured." Since the NYSE is made up almost exclusively of electronic trading, there is a roughly zero chance of any disruption to financial markets. Occupiers jeered (via creative signage) and sarcastically cheered Bloomberg: "Michael Bloomberg is my hero," one told the WSJ. "He catapulted us out of all this lethargy. He threw out all the drunks, all the hypocrites, all the liars, all the people who were here for a little bit of fun, and brought us down to the people who are smart enough to get things done and really have something invested in this."