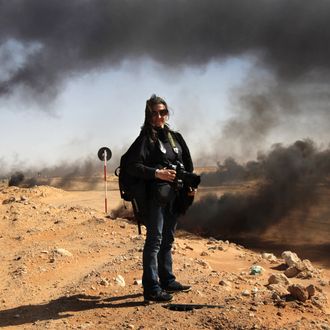 Addario at work.
Photo: John Moore/2011 Getty Images
Pulitzer Prize–winning New York Times photographer Lynsey Addario called Israeli border officials last month to make sure that when she crossed into the country, she wouldn't be made to walk through an X-ray machine, since she was seven months pregnant and worried about radiation. She was assured she wouldn't have to. But when Addario arrived, she was forced to walk through the machine three times before being stripped to her underwear for an additional search. Israel's Defense Ministry has since apologized, but not very convincingly.
Addario wrote a letter to the ministry after the incident citing the "blatant cruelty" of soldiers who "watched from the glass above the machine smiling triumphantly" and who "laughed" when she "expressed each time that I was concerned with the effect the radiation would have on my pregnancy." Then a female official had her almost naked. "I asked if this was necessary after the three machine checks, and she told me it was 'procedure' — which I am quite sure it is not," Addario wrote.
The ministry responded yesterday that "a deep and serious investigation" revealed "faulty coordination between the parties involved." They apologized for "this particular mishap in coordination and any trouble it may subsequently have caused to those involved," but noted that the search "was carried out according to the accepted security procedure" and that the X-ray machine "presents no danger for those who use it." Still, officials have "decided to hone the procedure for foreign journalists." How kind.
Earlier this year, Addario was detained for days by forces in Libya. That baby will grow up with one tough mother.