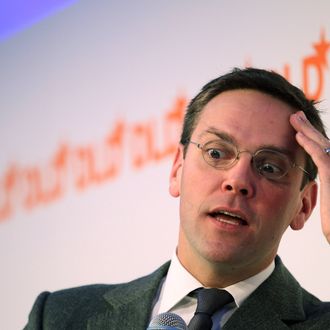 Photo: Miguel Villagran/Getty Images
When Rupert Murdoch and his son James faced questions this summer from British Parliament about the ballooning News Corp. phone-hacking scandal, the executives were evasive and even flat-out untruthful, according to subsequent claims by former News International executives, lawyers, and employees. In the four months since the Murdochs appeared before the Culture, Media and Sport Select Committee, there have not been bombshells of the magnitude of the Milly Dowler revelations that lit the touchpaper on the scandal, but there has been a steady stream of reporting and evidence indicating that a crooked culture at News Corp.'s British unit News International, overseen by James, was not only pervasive, but covered-up. When James faces the committee again on Thursday at 6 a.m. EST, he'll have a new slew of allegations to account for, and he'll likely be pushed to answer for things he said he didn't know last time, but about which new information has since come to light. James will have to face down tougher questions if he hopes to keep his role near the top of the company — and his spot as his father's heir. "Thursday is a make or break day for James," one News Corp. insider told Reuters. "The situation is much more dire than last time around."
Settlements
Then: In July, speaking about the 2008 phone-hacking settlement paid to soccer union boss Gordon Taylor, James said "… it was my first real involvement with any of the issues where there was no reason at the time to believe that the issue of the voice mail interceptions was anything but a settled matter, and that it was in the past after the successful prosecution of the two individuals [found responsible] as well as the resignation of the editor." He added that he "did not get involved in any of the negotiations directly."
Now: Tom Crone, News International's lawyer at the time of the settlement, has since testified that James personally authorized the amount. News Corp.'s senior outside counsel at the time warned, according to briefing notes and emails: "There is a powerful case that there is (or was) a culture of illegal information access used at NGN (News Group Newspapers) in order to produce stories for publication." Investigators also allegedly found one shared newsroom cell phone, nicknamed "the hub," which was used in the News of the World offices for more than 1,000 phone hacks.
Sample Question: Doesn't "a culture of illegal information access" seem to indicate a problem beyond the so-called "rogue" individuals?
Then: James dodged questions about News of the World reporter Neville Thurlbeck and his role in the hacking, explaining, "Again, in hindsight we can all say, 'If somebody had looked at this,' or, 'If somebody had known something that was not known at the time,' but I cannot comment on why the terms and the scope were what they were."
Now: In his August testimony, Crone said he was "certain" he told Murdoch that an email titled "for Neville" existed, indicating that Thurlbeck had received transcripts of hacked messages, and according to former News of the World employees Colin Myler and Crone, that's why the Taylor case was settled. James responded in a statement: "Neither Mr. Myler nor Mr. Crone told me that wrongdoing extended beyond [arrested phone-hackers] Mr. Goodman or Mr. Mulcaire," he said. "As I said in my testimony, there was nothing discussed in the meeting that led me to believe that a further investigation was necessary."
In a 2008 letter recently admitted as evidence from News of the World lawyer Julian Pike to Myler, in preparation for a "planned chat with chief exec James Murdoch," the newspaper's position was described as "very perilous," and urging a settlement with Taylor. The "for Neville" email is referred to as "genuine" and "fatal to our case."
Sample Question: James, how could you forget someone using such grave words in reference to the company you were in charge of?
Issues at The Sun
Then: By the time of the hearing in July, arrests and evidence proved that the hacking was not relegated to "one rogue reporter," as the company previously contended, but the Murdochs continued to stress their quarantining of the problem at the shuttered News of the World. In July, James insisted of the company's internal investigation, "Their investigation is broad, with respect to journalistic practices, in particular journalistic practices at the News of the World … "
Now: An editor of another News International tabloid, The Sun, was arrested last week "in connection with allegations of corruption," indicating that that paper might have done some phone hacking, too. At least one lawsuit alleges that illegally obtained information was passed from the News to The Sun "from time to time."
Sample Question: Is there anything else we should know about all those other newspapers?
Surveillance

Then: Asked about "other forms of illicit surveillance being used by private investigators," James's father took the question: "No. I think all news organizations have used private detectives, and do so in their investigations from time to time, but not illegally," said Rupert.
Now: Investigator Derek Webb says he was hired to track more than 100 targets, including Prince William, Daniel Radcliffe's parents, and even Mark Lewis, a lawyer representing victims of the phone-hacking scandal. Webb said his spying on Lewis occurred in the last eighteen months in an effort to stop Lewis from taking on cases against the company. News Corp. responded in a statement: "While surveillance is not illegal, it was clearly deeply inappropriate in these circumstances. This action was not condoned by any current executive at the company."
Sample Question: In light of the whole problem here stemming from shady reporting techniques, why continue to hire investigators? How much money is News International currently spending on such external services?
Severance

Then: Rupert Murdoch explained that former top executives at the company Rebekah Brooks and Les Hinton "both asked to leave," and James insisted that the details of their settlement packages were "confidential." Rupert added, "They are certainly confidential."
Now: Brooks, the former chief of News International at the time much of the hacking occurred, received $2.72 million in cash, a central London office, and "a chauffeur-driven limousine" for two years.
Sample Question: Committee member Tom Watson to the Guardian last week: "It is curious that such an generous package is given to Ms. Brooks when others have been cut loose… It is almost as if she hasn't really left the company. I am sure Mr. Murdoch will want to explain the decision to his shareholders."
Succession
Then: News Corp. shareholders not in the Murdoch family voted overwhelmingly against the reelection of James and his brother Lachlan to the company's board.
Now: The company's COO Chase Carey said on an earnings call that James Murdoch was doing a "good job."
Sample Question: Committee member Paul Farrelly today asked Reuters rhetorically: "Given that this has led to the closure of the News of the World and has cost News International handsomely, he'll be asked if he didn't know the full extent, why didn't he when he was the chief executive?"