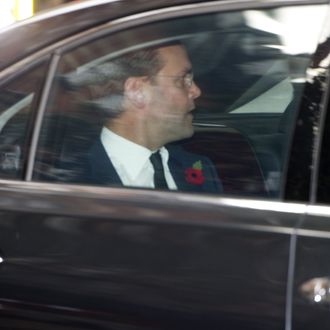 Murdoch arrives today.
Photo: Carl Court/AFP/Getty Images
Asked today if he gave misleading testimony to a British parliamentary committee back in July about his company's phone-hacking scandal, News Corporation Deputy COO James Murdoch said plainly, "No, I did not." Instead, Murdoch blamed two of his former News International employees, Tom Crone and Colin Myler, for misleading parliament when they claimed to have explained to Murdoch just how rampant the illicit reporting techniques were at the company's newspapers. "Certainly in the evidence they gave to you in 2011 in regard to my own knowledge, I believe it was inconsistent and not right, and I dispute it vigorously," Murdoch said this morning. "I believe their testimony was misleading and I dispute it." And so for the second time, Murdoch managed to slink around contradictory evidence and testimony, not necessarily appearing morally sound or entirely believable, but still avoiding any fatal blows from government inquirers.
"You must be the first Mafia boss in history who didn't know he was running a criminal enterprise," quipped committee member Tom Watson at one point, seemingly frustrated he was unable to nail down Murdoch on his inconsistencies.
At the start, echoing his father Rupert Murdoch's opening statement in July, James said, "I think the whole company is humbled," and that he was "very sorry." He also apologized for his company's use of private investigators who spied on phone-hacking victims' lawyers, calling it "appalling." Asked about The Sun, another of News Corp.'s British papers facing allegations of corruption, James said he would not rule out shutting it down altogether, just as the company did to the News of the World.
But more often, James was in denial-mode, insisting that in 2008, he knew only enough to approve a settlement to soccer union boss Gordon Taylor, but denying that he was shown the e-mail evidence that his former lawyers said made the settlement necessary. "The suspicion that perhaps other individuals were involved at the News of the World was not described to me, and the e-mail was not shown to me either," Murdoch said. (News Corp.'s chief outside counsel in 2008 reported a "culture of illegal information access" at the News of the World and noted "overwhelming evidence of the involvement of a number of senior … journalists.")
Although his testimony today was scheduled to last an hour, it went well over two, yet Murdoch was not asked about the massive severance packages received by Rebekah Brooks and Andy Coulson, both of whom resigned amid phone-hacking revelations, nor was he asked in detail about the private investigators hired by his company recently. Perhaps those are questions for another time. Or maybe the answers the committee (and the public) is looking for are not to be found with a well-prepared executive who either knows way too much or way too little.
Related: James Murdoch Goes Back to Parliament: A Primer [NYM]
Update: A few hours after hearing testimony from James, former News International lawyer Tom Crone has released a statement calling Murdoch's claims "disingenuous":
"It is regrettable, but I can perfectly understand why James Murdoch felt the need to discredit Colin Myler and myself.

"The simple truth is that he was told by us in 2008 about the damning email and what it meant in terms of wider News of the World involvement.

"It seems he now accepts he was told of the email, of the fact that it contained transcripts of voicemail interceptions and that those interceptions were authorised by the News of the World.

"Perhaps Mr Murdoch could explain who he thought was doing the authorising at the News of the World?

"At best, his evidence on this matter was disingenuous."