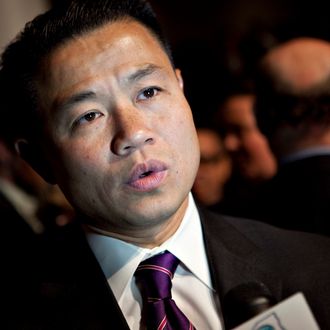 Uh-oh.
Photo: Daniel Acker/Bloomberg via Getty Images
Coming close on the heels of this morning's The Wall Street Journal exposé of City Comptroller John Liu's ties to disgraced Democratic fund-raiser Nathan Hsu comes news that one of Liu's current campaign fund-raisers, bundler Xing Wu Pan, was arrested this morning on wire fraud and conspiracy charges. The Times:
The charges say someone approached Mr. Pan, 46, of Hudson County, N.J., in July of this year and said they wanted to donate $16,000 to the candidate, far in excess of the city-imposed limit of $4,950 for individual contributions.

Mr. Pan, according to the charges, sought to send the money to Mr. Liu's campaign by using 20 straw donors — people who are recorded in campaign finance documents as giving to a candidate but actually serve as conduits for money from an unseen large donor, the person said.

That allowed Mr. Pan to circumvent the limits, according to the charges.
This may only be the start of Liu's trouble, too. There's a whole ongoing investigation — possibly separate from the investigation that ensnared Pan — by Manhattan federal prosecutors and the FBI into whether some of Liu's 2009 campaign cash came from illegal overseas donors. If Liu's mayoral campaign goes pear-shaped as a result of the corruption probes, at least he'll be able to stand by the legacy that he made the office of City Comptroller seem worthy of a tell-all memoir for possibly the first time.
Earlier: John Liu's Donations Look Even Sketchier