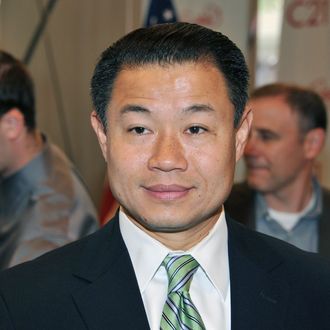 Liu.
Photo: Slaven Vlasic/Getty Images
Sure, John Liu just had one of his major bundlers arrested on fraud charges. Yeah, he's been linked to another disgraced Democratic fund-raiser. And, no big deal, he's currently the subject of an ongoing FBI investigation into his campaign fund-raising practices. But hey, that doesn't mean he can't be the mayor of New York City! The embattled city comptroller referred to the arrest of fund-raiser Xing Wu "Oliver" Pan as "an unexpected challenge," but also told a crowd in Greenpoint that he was still running for mayor. "Of course, there will be many challenges, some expected, some unexpected, on the election road," he said, according to the Post. Given the context, it sounds a little like he's saying, Plenty more where that came from, guys!
Just after Liu publicly re-upped his dedication to running for mayor, Robert Abrams, a former state attorney general whom the Liu's campaign hired to independently audit its campaign finance practices, quit. (Is that an expected or unexpected challenge?) Abrams was angry that Liu's lawyer had asked him to back off of his own investigation because of the FBI's, with which Liu is cooperating. So many criminal probes, so little time.