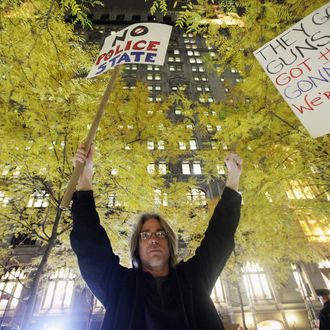 Freedom of the press?
Photo: Mario Tama/2011 Getty Images
Media organizations have not forgotten that the NYPD prevented numerous journalists from viewing, and reporting on, the police's overnight eviction of Occupy Wall Street protesters last week from Zuccotti Park in lower Manhattan.
A group of news organizations has responded to the hostile treatment of writers and journalists — in  pen, of course — by requesting a meeting to address their concerns stemming from incidents during the overnight raid. George Freeman, vice-president and assistant general counsel for the Times Company, in a letter joined by the Associated Press; the New York Post; the Daily News; Dow Jones; Thomson Reuters; and others, wrote: "The police actions of last week have been more hostile to the press than any other event in recent memory."
The letter continued:
According to reports from our clients, credentialed media were identified, segregated and kept away from viewing, reporting on and photgraphing vital matters of public concern. A press pen was set up blocks away and those kept there were further prevented from seeing what was occuring by the strategic placement of police buses around the perimeter."
The group cited numerous examples of alleged misconduct, including an incident where a photographer with visible press credentials, after being directed to get out of the way, was grabbed by an officer and thrown to the ground, hitting her head on the pavement.
Mayor Bloomberg previously defended the NYPD's actions. "The police department routinely keeps members of the press off to the side when they're in the middle of a police action," he said last week. "It's to prevent the situation from getting worse, and it's to protect the members of the press."
That's all nice and good, but there's a difference between keeping people "off to the side" and launching them into pavement.
The New York Civil Liberties Union sent a separate, similar letter to the mayor and police commissioner Raymond Kelly.
Deputy Commissioner Paul Browne, the police spokesperson to whom the group's letter was addressed, responded by e-mail: "We've worked together in the past to iron out misunderstandings, and I'm happy to do so again."