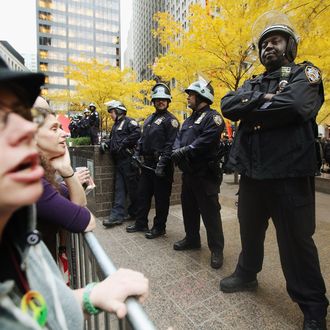 Today's Zuccotti Park standoff.
Photo: Mario Tama/2011 Getty Images
A New York City judge ruled just now that Occupy Wall Street demonstrators will not be allowed to camp again in Zuccotti Park, deciding in the city's favor. Justice Michael D. Stallman wrote, "The Court is mindful of movants' First Amendment rights of freedom of speech and peaceable assembly. However, '[e]ven protected speech is not equally permissible in all places and at all times.' … Here, movants have not demonstrated that the rules adopted by the owners of the property, concededly after the demonstrations began, are not reasonable time, place, and manner restrictions permitted under the First Amendment." The court defends the park's owner, Brookfield Properties, in prohibiting "tents, structures, generators, and other installations."
Early this morning, following the Bloomberg-ordered NYPD raid on Zuccotti Park, Justice Lucy Billings, a former ACLU lawyer, required that Bloomberg "show cause" for evicting the protesters. According to the temporary restraining order, Billings said the city must not enforce "'rules' published after the occupation began or otherwise preventing protesters from re-entering the park with tents and other property previously utilized." Hours later, the case was reassigned to another judge and the city filed a motion opposing the morning's ruling. Throughout the afternoon, Zuccotti Park remained closed, guarded by both NYPD officers and Brookfield Properties security, as the group of demonstrators outside swelled.
Deputy Mayor Cas Holloway, in the city's filing, argued that allowing protesters back into Zuccotti Park would make for "unsafe and unsanitary conditions and the substantial threat to public safety." The city said that protesters were gathering supplies that could be used as weapons, including a "steady accumulation of combustibles, smoking, and other hazards … such as cardboard tubes with metal pipes inside." They also cited the Brooklyn Bridge march on October 1, claiming that "knives, mace and hypodermic needles were observed discarded on the roadway." The city cited 73 misdemeanor and felony complaints and approximately 50 arrests.
Despite the judge's ruling, the park will be opened at some point and everyone will be allowed back in, just not with the supplies they need for an extended stay. When the barricades do part, it will be interesting to watch the interaction between police and protesters. Luckily, there's a livestream for that.
Update: Zuccotti Park was opened soon after the decision came down and police let protesters enter in a single-file line, maintaining the right to reject those deemed to not be following the rules. The Times reports chants of "Keep it calm." A general assembly meeting is planned for 7 p.m., presumably to start deciding what's next. A long day for the occupiers isn't over yet.
Earlier: Fate of Zuccotti Park Uncertain As Judge, Bloomberg Disagree