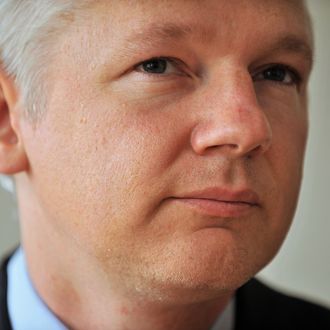 Photo: BEN STANSALL/2011 AFP
WikiLeaks editor Julian Assange isn't the kind of guy who stays friends. Long after things went sour with the newspapers helping him to publish state secrets, Assange is still lashing out at the Guardian, the New York Times, and Germany's Der Spiegel. "One of the most extraordinary things about British journalism is that it is the most credit-stealing, credit-whoring, backstabbing industry ever encountered," says Assange in a new documentary, True Stories: WikiLeaks, set to air tomorrow. Meanwhile, WikiLeaks continues to struggle, and has pushed back the release of its new submission system.
Of the Times' failures, Assange has a longer explanation:
Once a media group is powerful for long enough, it starts to enter into a relationship with other powerful groups, because other powerful groups seek its favour, seek to makes deals with it and the individuals who run it. It stops seeing itself as a group that holds powerful groups to account and starts seeing itself as part of the social network of the elite. That's why fundamentally mainstream media cannot be trusted.
In the same film, the Guardian's Nick Davies calls Assange an "extraordinarily dishonest man."
But aside from the pissing match, Assange is in actual trouble: He's still fighting extradition to Sweden, where he's wanted for questioning about sexual assault accusations. Judges in London will decide next Monday whether Assange's appeal will be heard by the Supreme Court.
Business is bad, too. WikiLeaks' system for obtaining secrets has been nonfunctional for more than a year, and a planned event to introduce a new system today has been postponed indefinitely. "Constructing the system is very complex," the group announced. "Due to the deteriorating state of internet security which directly impacts the ability of sources to communicate with journalists and human rights activists securely, WikiLeaks has decided to postpone the launch initially scheduled for Monday 28th 2011 in the interest of source protection." A press conference has been scheduled for Thursday, when WikiLeaks will announce its "new phase." It's been a rough year; our expectations are low.