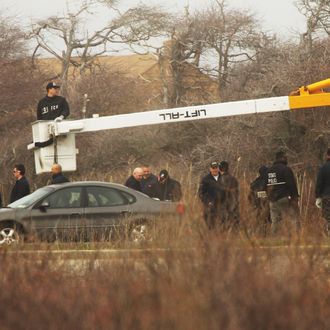 Investigators comb the area.
Photo: Spencer Platt/Getty Images/2011 Getty Images
It's been nearly a year since police started finding body after body on Long Island's Gilgo Beach, and the local police chief says that the remains of all ten people are likely tied to the same killer. "Our theory is the serial killer is working alone," said Suffolk County Police Commissioner Richard Dormer, despite previous reports (still not ruled out completely) that more than one person was involved. "Serial killers evolve," Dormer said. "They don't necessarily do the same thing all the time. What's common here is the dumping ground, and the people who are victims: sex workers." The suspect is thought to be smart, sadistic, and maybe even have a law enforcement background, making for extra-cinematic, sustained terror, despite the lack of action in the case lately.