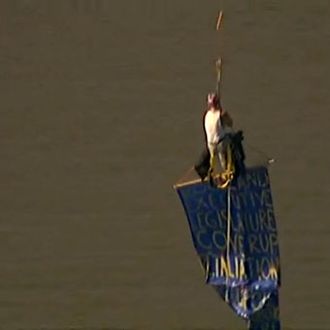 There is currently a man wearing an American flag bandana hanging from a rope ladder off the Tappan Zee Bridge over the Hudson River. Hurry and watch the live stream before they get him down! He's carrying a 24-foot banner that reads "Rockland Executive Legislature Coverup Retaliation," and something else about a government "cover-up," plus a bunch more hard-to-make-out writing. The guy, God bless him, took off his long-sleeved shirt to reveal a white tank top, and is drinking from a thermos. Probably something good. He is just chilling, really. Needless to say, no one is getting over the bridge right now.
Update: The man has been identified as Michael Davitt, "a Rockland County resident who has appeared at several county council meetings alleging that he had wrongfully lost his job with the county," according to police. Perhaps the best detail in a story full of them: He used to work for the Department of Mental Health.

Davitt was lowered from his spot by authorities and, on the way down, either jumped or fell into the river. Rescuers then pulled him into a boat. He lasted more than three hours up there.