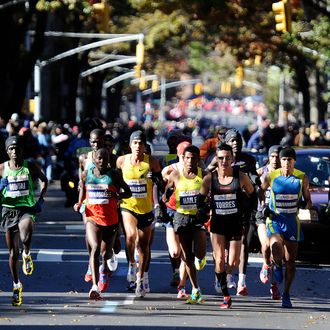 Runners in last year's marathon. (EMMANUEL DUNAND/AFP/Getty Images)
Photo: EMMANUEL DUNAND/2010 AFP
The New York Times put up a spiffy graphic video yesterday tracking how neighborhoods along the marathon route have changed since the five-borough course was set 35 years ago. On the whole, it shows a city growing wealthier and more diverse, with gentrification raising median incomes almost everywhere — except Mott Haven in the Bronx and that little bit of Staten Island where the marathon kicks off — and most areas witnessing some serious ethnic mixing. (Though it should be noted the marathon favors waterfront neighborhoods, likely doing better than far-flung Queens, for instance, or deep Brooklyn.)

Most Gentrified: Industrial zone turned condo heaven Long Island City, in Queens, saw its median income skyrocket by 374 percent since 1976. Park Slope also saw a big rise, with median incomes up 288 percent and now pushing $100,000, as did the East 100's (308 percent) and the area around Marcus Garvey Park in Harlem (293 percent).
Most Colorful: Brooklyn looks to take this one, with once largely black Fort Greene seeing an influx of whites and Latinos, and the foreign-born population along the Brooklyn marathon route up by 30 percent, the most of any of the boroughs. Also: Bay Ridge, once largely Irish- and Italian-American, is now full of Arabs and Asians, with Sunset Park tied (with East Harlem) for the biggest influx of Mexicans.