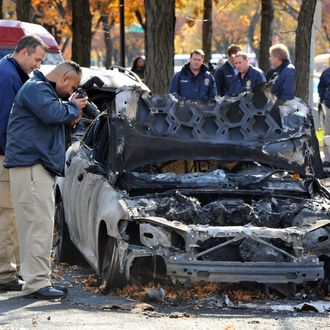 The scene of the crime.
Photo: Paul Martinka/Polaris
The vandals responsible for torching three cars and spray-painting anti-Semitic graffiti in Midwood, Brooklyn, last week may have left behind the 27 Corona bottles found at the scene of the crime. Police are now checking for fingerprints and DNA. Meanwhile, while the incident was certainly the city's most shocking anti-Semitic incident in recent memory, it was hardly the only one. In fact, two other swastikas were found in other parts of Brooklyn in the past few days, the Daily News reports — one was etched into a lobby door on 17th Avenue, another was painted on a parking meter on McDonald Avenue. Worst Brooklyn trend ever! Okay, second worst.