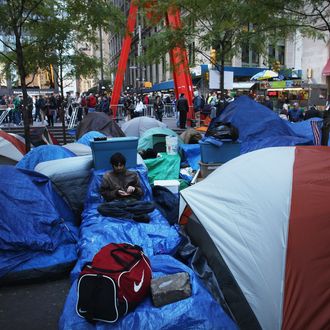 Occupy.
Photo: Spencer Platt/ Getty Images
This wouldn't be a story if 18-year-old Aaron Schmidt had simply told a family member where he was going before catching a bus in Nebraska due east to New York to join the Occupy Wall Street protest. But he didn't, and after not hearing from him for two days, concerned family members reported Schmidt missing to campus police at the University of South Dakota, where he's a freshman.

"I wanted to learn more about it. It's hard to know exactly what's going on with something until you experience it yourself. It's hard to judge something from afar from reading things simply online," said Schmidt, who had never been to New York before the trip.
Schmidt slept on cardboard in Zuccotti Park for two nights because he didn't have a sleeping bag (before the eviction), and ate food distributed by other protesters. Eventually his father and uncle caught up to him after he responded to a relative's text message.