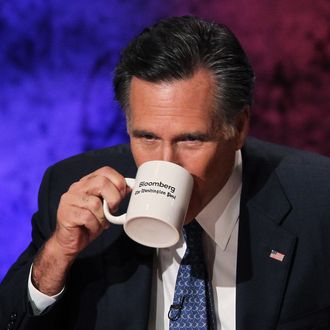 Mitt Romney drinking milk, probably.
Photo: Justin Sullivan/2011 Getty Images
Is Mitt Romney the kind of guy you want to have a beer with? Probably not. But even if you do, you can't anyway. Romney will never humor working-class Pennsylvania voters by commiserating with them over a beer. He will never solve a small-town racial controversy that has nothing to do with him in the first place by convening a White House beer summit. Why? Because Mitt Romney is a Mormon, and, being a Mormon, Romney never drinks alcohol. Except that one time. "I tasted a beer and tried a cigarette once, as a wayward teenager," he admits in the upcoming issue of People. Mitt "Wayward" Romney, they called him.