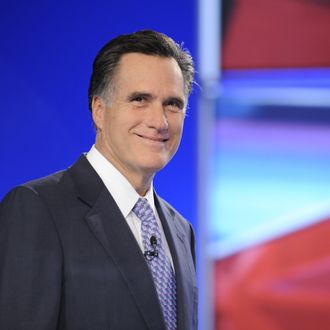 Mitt Romney. (EMMANUEL DUNAND/AFP/Getty Images)
Photo: EMMANUEL DUNAND/2011 AFP
Even though Herman Cain has zoomed to the top of the polls, few political pundits right now see anyone other than Mitt Romney realistically facing off against the Obama reelection machine. Hence why Romney's recurring claim that he's been a job creator his entire career is getting a thorough deconstruction in the Times, which distills his tenure at private equity firm Bain Capital into the story of one acquisition: medical-equipment-maker Dade International. It's the kind of story that, depending how you read it, can support the Romney narrative that he's the turnaround kid — creating jobs and value (and a personal fortune in the process) — or the opposition narrative that he's part of the one percent, slashing jobs at the bottom to earn more money for the fat cats at the top.
The key details: In 1994, a Bain-led consortium bought Dade, quickly doubled the company's sales, bought up two of its competitors, and rewarded itself and shareholders for all their good work to the tune of $420 million. (Bain got at least an eightfold return on its investment.) But in those same five years, the company also laid off over 1,700 workers and increased long-term liabilities from under $300 million to around $2 billion. By August 2002, the company had filed for bankruptcy.
Company executives argue there were labor redundancies and that things would've turned out worse if Bain hadn't done what it did. In a 2007 interview with the Times, Romney talked generally about such methods: "Sometimes the medicine is a little bitter, but it is necessary to save the life of the patient." But just as Romney's "let the markets weed out the weak" argument for the automakers and the mortgage industry have made him sound callous to struggling Americans, many already venting their anger at Wall Street and overpaid executives, such anecdotes represent a definite political powder keg.

Romney's defense will probably be that he'd already left Bain for the scandal-ridden Salt Lake City Winter Olympics — he titled his book about the experience, you guessed it, Turnaround — or that many of the 150 companies Bain took over turned out for the better. He may even argue that Dade's post-bankruptcy sales prices of $7 billion ultimately vindicates Bain's cost-cutting. But as Benjamin Wallace-Wells wrote in New York last month, there's just no getting away from the fact that Romney was a chief and early proponent of what's been dubbed the "shareholder revolution." The danger for Romney is that articles like the one in the Times will remind Americans that the shareholders he cares about are not so much blue-collar factory workers with declining pensions but the capital-rich class that, according to Republican economics, creates jobs and growth.