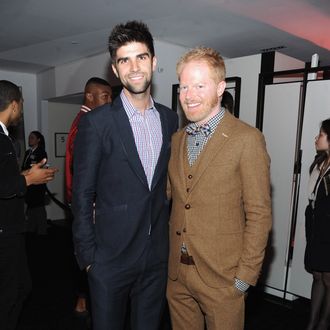 Jesse Tyler Ferguson, on the right, with his partner Justin Mikita.
Photo: Jamie McCarthy/Getty Images
Jesse Tyler Ferguson was surprised to learn that Republican presidential candidate Mitt Romney — who at one time vowed to do more for gay rights than liberal stalwart Ted Kennedy, but now supports a Constitutional amendment banning gay marriage and even opposes civil unions — is a fan of Modern Family, the hit sitcom that, in large part, seeks to validate gay relationships.  "Oh really?" Tyler Ferguson, who plays one half of the show's same-sex couple, responded when we mentioned it at the Gaga's Workshop launch party at Barneys last night.
It may seem like a perplexing choice for Romney, but the openly gay Tyler Ferguson, who was named one of Out magazine's most influential people last week, reacted with delight. "Well I hope Mitt Romney is wondering why he likes the show so much," he told us. "Maybe he sees that [gay parents] Mitchell and Cameron aren't quite so bad, and maybe he needs to re-think some things. But I love that he watches the show. I think that's very big of him, and I'm hoping that he's being changed a bit, in his heart."