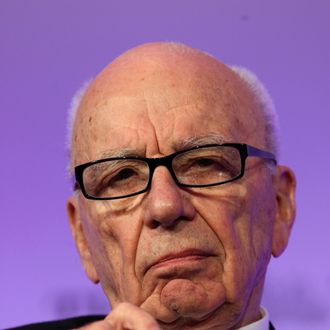 Photo: WPA Pool/2011 Getty Images
The third prong of the police investigation into the workings of the Murdoch family's British media companies got more serious today with reports that private detectives paid by News Corp. may have hacked the computer of a government minister responsible for undercover operations in Northern Ireland. (That's in addition to Scotland Yard's investigations into phone hacking and police bribery.) "Phone hacking is one thing, but targeting the computers of ministers with high-security clearance takes this police investigation to another level," said Tom Watson, a member of parliament. "It also raises questions for News International about whether its management were aware."
The police said they would not be "providing a running commentary on this investigation" and refused to comment, but a report in the Guardian says that former Northern Ireland secretary Peter Hain was warned that private detectives working for News International may have accessed computers that belonged to him and other intelligence agents. "These are matters of national security and are subject to a police investigation so it would be inappropriate to comment," said a spokesman for Hain.
But it's pretty much business as usual for the Murdoch family: News International chairman James Murdoch was reelected today as chairman of the board for broadcaster BSkyB, winning the support of more than 80 percent of shareholder voters despite questions about his role in the company's lawbreaking.
The government-appointed Leveson inquiry into the Murdochs' British newspapers, meanwhile, shifted focus a bit this week from James to his father, Rupert, most notably with the testimony of the singer Charlotte Church. The now-grown prodigy told the panel that when she was 13 years old, she was encouraged by her management and label to waive a $160,000 fee to sing at the wedding of Rupert and his third wife, Wendi Deng, in exchange for "good press" from the Murdoch papers. "I was being advised by my management and a certain member of the record company that he was a very, very powerful man and could certainly do with a favor of this magnitude," Church said.
A News International spokesperson "denies that there had been any such agreement," and insists that Church's appearance at the wedding "was a surprise for Rupert Murdoch." Alas, Church said her reputation was "shattered" by his tabloids anyway.