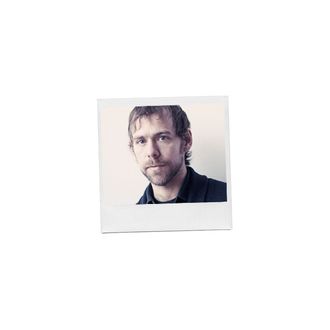 Name: Aaron Dessner
Age: 35
Neighborhood: Ditmas Park
Occupation: Musician; co-runner of the label Brassland along with his brother Bryce and Alec Bemis, who this month celebrate their tenth anniversary with song giveaways from bands including Nico Muhly, Baby Dayliner, and Clogs. You can also catch him in December with his band The National, playing six dates at the Beacon Theatre.
Who's your favorite New Yorker, living or dead, real or fictional?
Walt Whitman or Josef Kavalier.
What's the best meal you've eaten in New York?
A cheeseburger at the Farm on Adderley.
In one sentence, what do you actually do all day in your job?
Noodle. 
What was your first job in New York?
Secretary to my cousin David, who's a compassionate mortgage broker. [It was] Summer 1995 and I loved it. This was before the era of irresponsible lending, I think. But I mostly just fetched egg sandwiches.
What's the last thing you saw on Broadway?
Les Misérables.
Do you give money to panhandlers?
Yes, and all buskers on principle. I busked a few times in Asheville, North Carolina, when I was 18. It was terrifying. I was probably just trying to meet girls.
What's your drink?
Jameson. I drink a bit straight if I'm nervous before we play shows. It helps make things a little smoother out there. 
How often do you prepare your own meals?
Frequently when I'm home. I am an expert at applying premade pesto to pasta.
What's your favorite medication?
I don't really take any medication, though when we fly to Asia or Australia Ambien is a lifesaver. 
What's hanging above your sofa?
Converted gaslights which I overpaid for in some antique store on Atlantic Avenue. I own a creaky old Victorian house which would have had gaslights at one point, so they seemed appropriate.
How much is too much to spend on a haircut?
Either my sister cuts my hair for free or I go to Shlomi at Salon Biton on Vanderbilt Avenue in Prospect Heights. The experience is worth more than the $60 he charges.
When's bedtime?
Shortly after our 10-week-old daughter, Ingrid, succumbs to sleep.
Which do you prefer, the old Times Square or the new Times Square?
Old. It had grit and character and was occasionally scary or shocking, something to go see. 
What do you think of Donald Trump?
Grotesque.
What do you hate most about living in New York?
Congestion and/or getting stuck, which usually involves the BQE or the Belt parkway or suspended weekend service on the Q . That's when I fantasize about living in rural New England with no one around.  
Who is your mortal enemy?
Thankfully, no one.
When's the last time you drove a car?
I own a Jetta Sportwagen. Black on black. I also own a pair of docksiders. Got a problem with it?
How has the Wall Street crash affected you?
All of the sudden music seems like a wise career choice.
Times, Post, or Daily News?
Times, online.
Where do you go to be alone?
The recording studio in my garage, which we converted in 2008. I spend absurd amounts of time holed up in there. If I'm not working on music, I'm probably torturing my infant daughter, Ingrid, with kisses or running or playing soccer in the park.
What makes someone a New Yorker?
You were born in New York City, work in New York City, or moved to New York City to chase some dream.