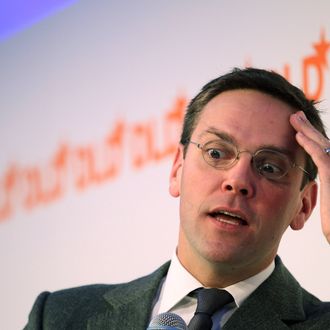 James Murdoch.
Photo: Miguel Villagran/Getty Images
A private investigator was hired by the now-shuttered News of the World tabloid to perform surveillance on two lawyers representing victims of the Murdoch company phone-hacking scandal. As if that's not grimy enough, the ex-cop investigator says he's snitching now because News International didn't pay him. Derek Webb claims he was hired to follow Mark Lewis and Charlotte Harris, along with Lewis's ex-wife and teenage daughter, to uncover information that might stop them from taking on more phone-hacking cases.
"To follow my teenage daughter, my youngest daughter and video her is nothing short of sick," said Lewis. "On another level looking at me, that's not how you litigate, you play the ball you don't play the man … this is Mafia-like."
A spokesperson for the media company said, "News International's enquiries have led the company to believe that Mark Lewis and Charlotte Harris were subject to surveillance. While surveillance is not illegal, it was clearly deeply inappropriate in these circumstances. This action was not condoned by any current executive at the company."
The spying is said to have occurred within the last year and a half, while  James Murdoch was executive chairman. Murdoch is due in front of Parliament to discuss the phone-hacking matter on Thursday. The questions continue to mount.