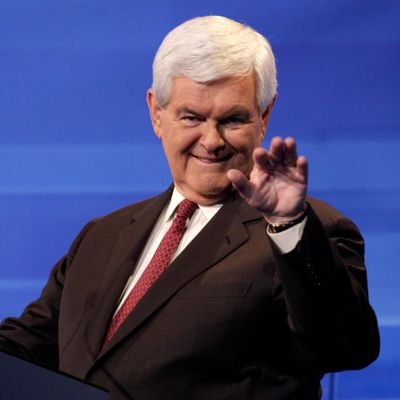 This is the most disturbing photograph we've ever seen.
Photo: Charlie Neibergall-Pool/Getty Images
The sudden ascendancy of Newt Gingrich, which we've all been eagerly anticipating for weeks, has finally arrived! According to two new polls today, the former House Speaker has now clawed his way into the top tier of GOP presidential candidates. Which means it's only a matter of time before his bubble bursts and he's ingloriously dumped back onto the heap of once-popular also-rans. We're not trying to be cruel; this is just how it goes. Donald Trump's wild faux-candidacy flamed out when President Obama released his birth certificate. Michele Bachmann's campaign crashed when Rick Perry entered the race and stole her thunder, and then she told everyone that HPV vaccines make you retarded. Rick Perry plummeted when he was unable to formulate a sentence during five straight debates. Herman Cain's nascent descent was sparked by a sex scandal. So it's inevitable that Gingrich, too, will falter. The only question is: How? Here are the five most plausible possibilities.
Gingrich horrifies viewers when, during a

CNN

debate, he jumps off the stage and backhands Anderson Cooper for asking him to limit his answer to under three

 

hours.
Gingrich is caught on video telling a little girl at a town hall that her question is "fundamentally defective and dramatically lacking in historical

 

awareness."
Gingrich crashes through a lectern after his increasingly large head leaves him so top-heavy that he becomes incapable of balancing

 

himself.
Gingrich stuns the political world when, just days before the crucial Iowa caucuses, he sets off on a three-week African safari with his

 

wife.
Voters finally realize that this Newt Gingrich is the same guy as the Newt Gingrich from the

 

nineties.