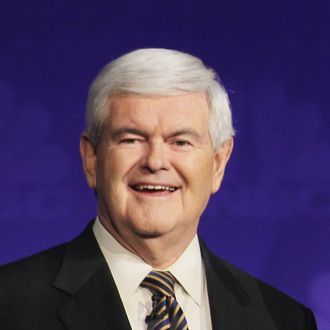 The one they've been waiting for?
Photo: Scott Olson/Getty Images
A CBS News poll today tells of a three-way race for the Republican presidential nomination, led by Herman Cain with 18 percent, who is followed closely by both Mitt Romney and Newt Gingrich with 15 percent each, unlikely as it seems. Taken together with a PPP poll from earlier this week, which showed Gingrich with his favorability numbers on the rise, and as a second choice to many Cain supporters, and it's becoming apparent that we've entered a new phase in this topsy-turvy nomination battle — one in which Gingrich actually stands a chance, or at least in which voters will act like he does for a little while. A few days ago, the conservative Weekly Standard noted, in Newt's favor, that conservatives are "hungry for someone who can persuasively articulate conservative principles while winning the presidency." As his poll numbers rise, expect more news coverage to follow. We've found ourselves a new narrative. And the undercurrent of it all: Mitt Romney just can't get voters to like him.
Both Cain and Romney have lost support since last month, according to the CBS poll, with only Gingrich gaining, however slightly. Thirty percent of those asked said the sexual harassment allegations against Cain make them less likely to support him, and he's lost ground especially among women, falling from 28 percent to 15 percent since late October. Romney is down among men, while Gingrich is up eight points.
A catastrophic debate showing by Rick Perry amid Cain's sexual skeletons and Romney's inability to convince conservatives of his bona fides has opened a Newt-sized hole in the race, thanks to the old-timer's relatively low profile lately. As John Heilemann explained yesterday, "Newt Gingrich had the benefit, in a way, of his fall happening five months ago," the equivalent of a lifetime in this political season. "He may have another moment in the sun," Heilemann said, but cautioned: "the question is whether he then does the same thing he did last time: shoot himself in the foot and then decline into nothingness again."
There's certainly time for that: Seven in ten Republicans in the CBS poll said it's still to early to say for certain who they will support. And so Romney, still the most viable choice, and the one without a real meltdown to his name, continues to wait patiently.
Update: A new McClatchy-Marist poll supports the existance of a Gingrich surge, but has Romney back atop the pile at 23 percent. Gingrich follows at 19 percent, while Cain slips to 17 percent. "Romney is still where he's been. It's fair to say this is a battle for the anybody-but-Romney candidate. Gingrich has now begun his 15 days of fame. Whether he is able to maintain that, as others have fallen, is the question. He may be the only one standing when this is all said and done," said the poll's director. Another thing Gingrich has on his side is loyalty: "The poll found that 43 percent of his supporters said they are firmly committed to his candidacy. For Romney, that figure is 30 percent. For Cain, it is 31 percent."