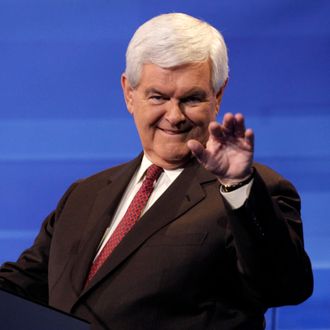 Newt Gingrich.
Photo: Charlie Neibergall-Pool/Getty Images
Newt Gingrich, speaking at Harvard's Kennedy School yesterday, brings us one of the more esoteric solutions to the economic mobility question we've ever heard: "Get rid of the unionized janitors, have one master janitor and pay local students to take care of the school." Empowering America's downtrodden youth and scoring a point against unionized labor — seems like a winning Republican strategy. "The kids would actually do work," Gingrich told his audience, "they would have cash, they would have pride in the schools, they'd begin the process of rising." Become a teenage janitor and end up in the middle class — really?
At least Gingrich, the GOP's front-runner of the week, seems to think so. "You go out and talk to people, as I do, you go out and talk to people who are really successful in one generation," he continued. "They all started their first job between nine and 14 years of age. They all were either selling newspapers, going door to door, they were doing something, they were washing cars." Except newspaper boys are fast becoming a thing of the past, and how many people ever switched income brackets because their kids sold lemonade or washed neighbourhood cars. Not to mention the traumatizing heckling any student-janitor would face day in and day out — or the purposeful vomit their peers would deposit liberally about the school. Because kids are just that mean.